Hawkeye Fan Shop — A Black & Gold Store | Hawk Talk Monthly — November | Fight For Iowa | Hawk Talk Daily links | 24 Hawkeyes to Watch | ACC Big Ten Complete Results
WEST LAFAYETTE, Ind. — The University of Iowa swimming and diving team finished day two of the ACC/B1G Challenge by helping the Big Ten Conference team to both men's and women's team victories.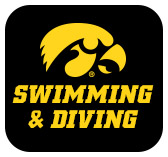 Sophomore Kelsey Drake and junior Hannah Burvill opened the second session of the Challenge together on the 200-medley relay, earning a sixth-place finish in a time of 1:40.74. Senior Kenneth Mende followed by leading off the men's relay, which also earned a sixth-place finish in a time of 1:28.51.
 
Freshman Mateusz Arndt swam the 200 free in a time of 1:38.46, finishing eighth in the field. Mende followed with a 49.73 swim in the 100 backstroke, also earning eighth place.
 
Burvill competed in the 50 free for just the second time this season, finishing eighth in a time of 23.40. She would appear again on the 400-free relay, swimming the third leg in a time of 50.11. She helped that relay to a fourth-place finish and an overall time of 3:19.12.
 
Junior Joe Myhre led off the 400 free relay in a time of 43.98, his fastest open 100 free of the season. Anchoring that relay was senior Jack Smith, who helped the relay finish in a time of 2:56.50 and a fifth-place finish after his blistering 43.88 second split. Junior Will Scott led off the sixth-place relay in a time of 44.49.
 
HEARING FROM JUNIOR JOE MYHRE
"The meet was a lot of fun and it was different from normal. It had an NCAA vibe to it, but it was only two teams, which was great to put a fast skin on in November. I'm surprised I swam this well and I'm happy with it. There's a lot of room for improvement, which shows how well I'm set up to do at the end of the season.
 
"Overall everyone swam and represented Iowa well. Most importantly, the meet was filled with a lot of world-class swimmers and we stepped up and got on the blocks with confidence. We raced hard and had a lot of fun."
 
TEAM SCORES (WOMEN)
Big Ten Conference 251, Atlantic Coast Conference 102
 
TEAM SCORES (MEN)
Big Ten Conference 179, Atlantic Coast Conference 174
 
UP NEXT
The Hawkeyes will host the Hawkeye Invitational at the Campus Recreation and Wellness Center on Nov. 15-17. Sessions will begin at 10 a.m./1 p.m./6 p.m. (CT) each day.