Hawkeye Fan Shop — A Black & Gold Store | Fight For Iowa | Photo Gallery
LAS VEGAS, Nevada — The University of Iowa women's tennis team concluded their fall season Sunday with a final round of singles and doubles at the Rebel Tennis Women's Invitational. 
 
Freshman Samantha Mannix placed second in Flight One of the singles main draw. Mannix was defeated by Aiwen Zhu of UNLV in straight sets, 6-2, 6-2.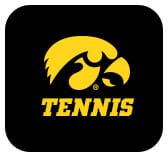 Sophomore Danielle Burich also claimed second place in Flight Six of the singles main draw, as she fell short to Purdue's Zala Dovnik, 6-1, 7-5. In the seventh place match, Cloe Ruette defeated Abby Warner of Air Force, 8-4. 
 
In the Flight Two Doubles championship match, the freshman duo of Michelle Bacalla and Sophie Clark fell short to Shimizu & Calkins of Purdue, 6-3.
 
Five Hawkeyes also picked up consolation and main draw wins. 
 
Senior Adorobol Huckleby placed third in Flight Four of the singles tournament. Huckleby defeated Alex Kuo of Air Force in a three-set thriller, 2-6, 6-1, 1-0 (10-3).
 
In the same flight, the Hawkeyes added another win to their total against Air Force as Elise Van Heuvelen Treadwell took home the consolation championship by defeating Nadeen Lieberman, 7-6, 7-6. Danielle Bauers dropped her seventh place match to Ashleigh Harvey from Air Force, 6-4, 6-1. 
 
In Flight Five, Ashleigh Jacobs added a second singles consolation championship with a dominating win over Air Force's Meredith Laskey, 6-3, 6-0. Michelle Bacalla also grabbed a win her seventh place match against Haruka Sasaki of North Texas, 6-3, 6-1. 
 
"It was a good tournament for our team. We had lots of competitive matches where we had to really dig in and fight.  Each player learned a lot, and I'm pleased with where we are as a team at the conclusion of the fall season," said head coach Sasha Schmid. "It was a great run here for Sam and Danielle reaching the finals of their flights.  It was terrific to have Elise and Cloe back healthy and competing this weekend, I'm excited to start the spring season with this group."
 
This was the final tournament of the Hawkeyes fall tournament season. The team will be back in action on January 18th against Xaiver University at the Hawkeye Tennis and Recreation Complex to open the spring season.
 
FLIGHT ONE SINGLES
FINAL
#49 Aiwen Zhu (UNLV) def. Samantha Mannix(IOWA) 6-2, 6-2
 
FLIGHT TWO SINGLES
CONSOLATION FINAL
Kalani Soli (LIB) def. Sophie Clark (IOWA) 6-2, 6-4
 
FLIGHT FOUR SINGLES
THIRD PLACE
Adorabol Huckleby (IOWA) def. Alex Kuo(AFA) 2-6, 6-1, 1-0 (10-3)
CONSOLATION FINAL
Elise Van Heuvelen (IOWA) def. NadeenLieberman (AFA) 7-6, 7-6
SEVENTH PLACE
Ashleigh Harvey (AFA) def. Danielle Bauers(IOWA) 6-4, 6-1
 
 
FLIGHT FIVE SINGLES
CONSOLATION FINAL
Ashleigh Jacobs (IOWA) def. Meredith Laskey(AFA) 6-3, 6-0
SEVENTH PLACE
Michelle Bacalla (IOWA) def. Haruka Sasaki (UNT) 6-3, 6-1
 
 FLIGHT SIX SINGLES
FINAL
Zala Dovnik (PUR) def. Danielle Burich(IOWA) 6-1, 7-5
SEVENTH PLACE
Cloe Ruette (IOWA) def. Abby Warner (AFA) 8-4
 
FLIGHT ONE DOUBLES
CONSOLATION FINAL
Jones/Harvey (AFA) def. Mannix/Jacobs (IOWA) 6-2
 
FLIGHT TWO DOUBLES
FINAL
Shimizu/Calkins (PUR) def. Clark/Bacalla(IOWA) 6-3
SEVENTH PLACE
Liang/Surapeneni (UNT) def. Ruette/Huckleby(IOWA) 7-6
 
FLIGHT THREE DOUBLES
SEVENTH PLACE
Burich/Bauers (IOWA) def. Kuo/Laskey (AFA) 7-6