Hawk Talk Monthly — November | 24 Hawkeyes to Watch 2018-19 | I-Club Events Page | Single Game Football Tickets
By HANNAH OSSMAN
hawkeyesports.com
IOWA CITY, Iowa — Josh Sinagoga is in his first season as a graduate assistant coach with the University of Iowa football team, but it is not his first coaching experience.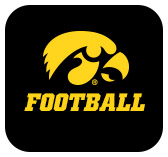 Sinagoga got his first stint in coaching as a graduate assistant working with the quarterbacks at his alma mater Northwood University (Michigan), where he played quarterback.
 
"I went to college at Northwood University and played quarterback there," Sinagoga said. "I was a graduate assistant for a year, working with the quarterbacks."
 
Following his time with the Timberwolves, Sinagoga took another graduate assistant position at Central Michigan University under head coach John Bonamego, who has ties with Iowa's head coach Kirk Ferentz.
 
"I was fortunate enough to go to Central Michigan University with Coach Bonamego, who has been a huge influence on me and a great mentor," Sinagoga said. "[He has a] connection with Coach Ferentz working at the University of Maine. Coach [Kirk] Ferentz hired him for his first full time [coaching position], which is a really cool connection."
 
Sinagoga has made the most of his experience at Iowa, absorbing as much information as he can under the winningest coach.
 
"Coach Ferentz does an amazing job, and I'm so thankful to be here and experience him on daily basis," Sinagoga said. "I've already filled up multiple notebooks. Every time he says a word, it's getting written down.
 
"I've always had a lot of respect for the University of Iowa and the culture perceived from the outside. I'm lucky enough to get to experience it first hand, and it's amazing."
 
At Iowa, Sinagoga works with wide receivers coach Kelton Copeland.
"Coach Copeland has been amazing and actually spent a year at Northwood University. We found that out when I got here, which is pretty cool. Coach Copeland is an awesome teacher and really holds guys accountable. It's been showing with our development."
 
The Hawkeye wide receivers have tallied 84 receptions for 1,195 yards and six touchdowns. Senior Nick Easley leads the group in receptions with 39 for 351 yards. Sophomore Brandon Smith leads the group in total yards with 453 on 20 catches.
 
The Hawkeyes take on Illinois at Memorial Stadium on Saturday. Kickoff is at 2:40 p.m. (CT) and will air on Big Ten Network.