Hawk Talk Monthly — November | 24 Hawkeyes to Watch 2018-19 | I-Club Events Page | Hawk Talk Daily links | Football Freshman: Tyrone Tracy, Jr. | Football Freshman: Tyler Linderbaum | Football Freshman: Kaevon Merriweather | Football Freshman — Dillon Doyle | Football Freshman — Henry Geil | Football Freshman — Julius Brents | Football Freshman — Riley Moss | Single Game Football Tickets | VIDEO — Seth Benson | Football Freshman: Nico Ragaini | Football Freshman: Spencer Petras
By DARREN MILLER
hawkeyesports.com
IOWA CITY, Iowa — If you watch a University of Iowa football practice, you might find freshman linebacker Seth Benson lining up at either the Will, Leo, or Mike positions.
 
Benson's demeanor, intellect, and versatility make him a valuable and flexible resource, regardless of where he lines up on the field for the Hawkeyes, who rank 10th in the NCAA in total defense.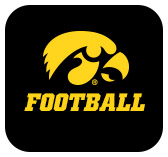 "He is a really active, aggressive player," Iowa head coach Kirk Ferentz said. "He is an excellent student and comes from a family of achievers, so we really liked him. He has done a nice job."
 
Benson also comes from a family of Jackrabbits. South Dakota State University Jackrabbits, that is. His father and oldest brother played football there, his mother played basketball, and another brother currently attends the university located in Brookings, South Dakota.
 
Seth nearly became the fifth Benson to wear yellow and blue.
 
"I was committed to SDSU, then in my senior season, Iowa came and offered," Benson said. "I came down on a couple visits and decided I wanted to be here."
 
When Benson was a freshman in high school, he tagged along with a friend to a camp at Iowa. As years went on, he noticed assistant coach Reese Morgan recruiting other student-athletes from his school. Then he started hearing from assistant coach LeVar Woods, who prepped at West Lyon (Iowa) High School, which is 40 minutes from Benson's home in Sioux Falls, South Dakota.
 
"I had been (to the University of Iowa) once and came back my senior year and it was whole different story," Benson said. "I like the connection I had and it went from there."
 
Benson played on the kickoff team at Penn State on Oct. 27, a game where the Hawkeyes averaged 34.4 yards on three returns. With three games remaining in Iowa's season, Benson can play in all three and still preserve his redshirt.
 
"I'm trying to work as hard as I can and get my spot," Benson said. "I want to continue to learn from the guys in front of me so if I do get out there, I can perform to best of my ability and help the team."
 
Iowa has started six different linebackers this season and only Jack Hockaday is a senior. The others are redshirt freshman Djimon Colbert, junior Amani Hooker, junior Amani Jones, sophomore Nick Niemann, and junior Kristian Welch.
 
At 6-foot-1, 205 pounds, Benson is one of the smaller linebackers on the Hawkeye roster.
 
"Obviously I am working on the physical aspect of getting bigger and stronger, but that will come with the weight room," he said.
 
At Washington High School in Sioux Falls, Benson — at one time or another — participated in football, basketball, track and field, and baseball while maintaining a 4.0 grade-point average. He was an elite all-state selection at linebacker as a junior and senior and was named South Dakota Player of the Year a year ago.
 
Washington went 12-0 in 2017 and won the South Dakota 11AAA state championship with a 20-19 victory over Roosevelt. With Benson in the lineup, the Warriors won 34 consecutive games.
 
Iowa (6-4 overall, 3-4 Big Ten) makes its final road trip of the regular season Saturday against Illinois (4-6, 2-5). Kickoff from Memorial Stadium in Champaign, Illinois, is 2:30 p.m. (CT).