24 Hawkeyes to Watch 2018-19 | Hawk Talk Monthly — November | I-Club Events Page | Single Game Football Tickets | Hawk Talk Daily links | RECAP | STATS | PHOTOS
By DARREN MILLER
hawkeyesports.com
CHAMPAIGN, Ill. — Close to 150 friends and family of University of Iowa sophomore A.J. Epenesa made the 90-minute drive from Glen Carbon to Champaign on Saturday to watch the Hawkeyes dismantle Illinois, 63-0.
 
Aside from a lot of points, the Epenesa Fan Club saw their favorite Hawkeye make a lot of plays.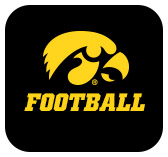 Epenesa, a 6-foot-5, 277-pound defensive end who attended Edwardsville High School, made a career-high eight tackles (3 ½ for a loss), with 1 ½ sacks. He also had a quarterback hurry, pass breakup, blocked punt, forced fumble, and 19-yard fumble return for a touchdown.
 
"All that really mattered was to get back in the win column and bounce back from those three losses," Epenesa said. "We couldn't have asked for anything better than coming out and playing the way we did."
 
Epenesa was impossible to miss during a two-minute stretch in the second quarter.
 
"He has the capability of blowing a game open and that's what he did," said senior defensive end Parker Hesse.
 
On the third play of the second quarter, Mekhi Sargent scored on a 3-yard run to extend Iowa's lead to 14-0.
 
On Illinois' next play from scrimmage, running back RaVon Bonner had the ball jarred away by Epenesa at the Illini 23. Epenesa scooped the ball at the 19 and sprinted for a touchdown. Iowa 21, Illinois 0.
 
"I was thinking, pick it up, pick it up, pick it up, run, and score," Epenesa said. "It is something we do every day in practice and I was trying to think back to the fundamentals we do for that small thing and it worked out."
 
On its next possession, Epenesa sacked Illinois quarterback A.J. Bush on first down and the Illini were eventually faced with fourth-and-1 from their 34. Epenesa rushed, blocked the punt, and saw it recovered by Hawkeye linebacker Nick Niemann, who took it to the Illinois 11. Iowa made it 28-0 on the next play when quarterback Nate Stanley found tight end T.J. Hockenson for a score.
 
In 119 seconds, Epenesa was instrumental in breaking the game open in front of an announced 33,313 fans in Memorial Stadium.
 
"He made three explosive plays in a short time and changed the feel of the game," Hesse said. "It got momentum going for us. You know it is only a matter of time with him. If he is out there, he is a big play waiting to happen. He is dangerous."
 
Iowa improved to 7-4 overall, 4-4 in the Big Ten Conference. In those 11 games, Epenesa has recorded 33 tackles (18 solo, 15 assists), 13 ½ tackles for loss, 8 ½ sacks, and three forced fumbles.
 
According to Iowa head coach Kirk Ferentz, there is a lot to like about the improving sophomore.
 
"You have to like his personality," he said. "He is humble, has a little energy to him, and he is growing and developing on a routine basis. We all want to microwave everything in this society and sports, but he is a guy who is gaining ground as we go along and learning how to play. He gets better every week."
 
It is the second time in two seasons that Epenesa has returned to his home state for a Big Ten game. In pregame, while talking with other Hawkeye defensive linemen, Epenesa pointed out that it wasn't too cold (38 degrees at kickoff) and there was no rain in sight.
 
"Today is a great days to make plays," Epenesa said. "It's a good day for football."
 
A good day, indeed.