Hawkeye Fan Shop — A Black & Gold Store | 24 Hawkeyes to Watch | Hawk Talk Daily links | Hawk Talk Monthly — November | Fight For Iowa | PHOTO GALLERY | Complete Results (PDF) | Complete Notes (PDF)
IOWA CITY, Iowa — The University of Iowa swimming and diving team completed the final day of the Hawkeye invitational on Saturday at the Campus Recreation and Wellness Center. The Iowa men and women both finished third in the team standings.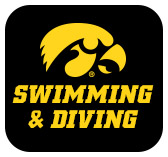 NCAA "B" CUTS
Senior Kenneth Mende was the first Hawkeye of the night to post NCAA "B" qualifying standards with his second-place finish in the 200 back. His time of 1:44.25 was a season-best and earned him an NCAA 'B' cut.
 
Junior Joe Myhre swam to another NCAA 'B' cut in the 100 free in a time of 43.76. Will Scott (44.29), Jack Smith (44.36), and Steve Fiolic (44.56) also posted season-best times to round out the sprints.
 
Sophomore Daniel Swanepoel posted the third NCAA 'B' cut of the night in the 200 breast with a time of 1:57.56. Senior Tanner Nelson (2:02.48) and freshman Caleb Babb (2:04.25) also posted career-best times.
 
DIVING BESTS
Junior Thelma Strandberg led the way for the divers with a career-best score of 254.70 on the platform. This score also qualified her for the NCAA Zone Diving Championships. Freshman Joylnn Harris followed with a career-best of 192.70.
 
Sophomores Anton Hoherz (344.05) and Jonatan Posligua (331.20) dove to fourth and fifth place finishes on the platform. Posligua boasts a new career best.
 
OUTSTANDING SWIMS
Freshman Mateusz Arndt took sixth in the 1,650 freestyle, earning a time of 15:26.79, which lands him seventh all-time in program history.
 
The women finished second, third, fourth, and eighth in the 100 free, nearly sweeping the 'A' final. Junior Hannah Burvill (49.74), sophomore Sarah Schemmel (50.15), and junior Allyssa Fluit (50.31) all swam season-bests.
 
ENDING WITH A BANG
The 400-free relay of Burvill, Fluit, Kelly McNamara, and Schemmel ended the day with a time of 3:20.16. Burvill's lead off split of 49.53 was a season best.
 
HEARING FROM MATEUSZ ARNDT
"In the mile I think I did pretty well because I held pace the whole time. It was my first time swimming the mile in a yards pool, which was something different for me, but I am happy with the result. All of my events were pretty fast, but it's only midseason. The energy of our team was amazing, which is hard to explain to someone who wasn't in the pool. It was something great."
 
HEARING FROM DANIEL SWANEPOEL
"Everyone swam pretty well. A lot of people surprised themselves and others on the team, but I think that's partly due to our training. We've been putting good work in and it is great to see these times with only a small drop taper and being unshaved. It's fun to see what's in store for us at the Big Ten Championships. I ended on a high note in the 200 breast, which is my strongest event. I felt good and strong, which helped me end the meet with a bang."
 
HEARING FROM HEAD COACH MARC LONG
"This being a midseason meet, we treated it like it should be to get the kind of performances we wanted. There are so many little stories, even if you don't see them in the top positions. We had so many swimmers excel on every level, so we will look back at see how well we did as a whole.
 
"Certainly you'll see Hannah (Burvilll), Kelsey (Drake), and Jayah (Mathews) on top, but even swimmers like Sam (Dumford) breaking through barriers. On the guys side, we also had tons of great performances from our young freshmen. Seeing everyone do well against teams who were getting cuts today makes us very proud."
 
FINAL TEAM SCORES (MEN)
Purdue – 875.5
Minnesota – 813
Iowa – 797.5
Grand Canyon – 754
Missouri State – 356
South Dakota – 158
South Dakota State – 92
Wisconsin – 58
Michigan State – 9
 
FINAL TEAM SCORES (WOMEN)
Minnesota – 1136
Nebraska – 931
Iowa – 632.5
Southern Methodist – 414.5
Missouri State – 332
Grand Canyon – 307
South Dakota – 132
Michigan State – 29
Wisconsin – 25
Iowa State – 24
Kansas – 9
Omaha — 6
 
UP NEXT
The Hawkeye women will host Iowa State in an Iowa Corn Cy-Hawk Series matchup Dec. 7 at the Campus Recreation and Wellness Center.