IOWA CITY, Iowa — University of Iowa junior defensive back Amani Hooker has been named the Tatum-Woodson Big Ten Defensive Back of the Year and sophomore wide receiver Ihmir Smith-Marsette has been named the Rodgers-Dwight Return Specialist of the Year. The honorees and defensive all-conference teams were announced by the Big Ten Tuesday. Offensive award winners will be announced Wednesday.
 
"Amani and Ihmir both made strides in their development as football players and leaders throughout the course of the season," said head coach Kirk Ferentz. "Both A.J. and Geno also improved as younger players and played a bigger and bigger role as the season went on. For our seniors, the recognition is a result of their play on the field, and the leadership they have provided throughout their careers. It's gratifying to see others recognize those contributions."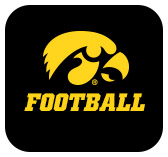 Hooker is the fourth Hawkeye to earn the defensive back award, and the third in the past four seasons.  Micah Hyde (2012), Desmond King (2015), and Josh Jackson (2017) previously earned the defensive back honor.
 
Hooker was named first-team All-Big Ten by coaches and media, while Smith-Marsette was named first team by media and second team by coaches.
 
Sophomore defensive end A.J. Epenesa joins Hooker in earning first-team All-Big Ten honors, being named first team by media and second team by coaches. Junior defensive end Anthony Nelson was named second team by conference media and third team by coaches.
 
Senior defensive tackle Matt Nelson, senior safety Jake Gervase, and senior kicker Miguel Recinos earned honorable mention recognition from coaches and media. Senior defensive end Parker Hesse and sophomore safety Geno Stone earned honorable mention from media. Hesse is Iowa's Sportsmanship Award recipient.
 
Hooker is a native of Minneapolis. He is second on the team with 59 tackles, leads the team with seven pass break-ups and is tied for the team lead with four interceptions. He also recorded 3.5 tackles for loss. As a team, Iowa is tied for the national lead with 18 interceptions after the Hawkeyes led the nation a year ago with 21.
 
Smith-Marsette is the first Hawkeye to be named Return Specialist of the Year. The award bears the name of Iowa's 1997 consensus All-American Tim Dwight. Smith-Marsette, a native of Newark, New Jersey, ranks second in the nation in kickoff returns with a 29.3 average on 19 returns.
 
Epenesa and Nelson share the team lead with 9.5 sacks, the most by a Hawkeye player since 2011.  Epenesa, a native of Glen Carbon, Illinois, has recorded 35 tackles and scored a touchdown at Illinois on a fumble return.  Nelson is from Waukee, Iowa, and has 41 tackles. He scored a touchdown on a fumble recovery against Maryland. Epenesa (Iowa State and Illinois) and Nelson (Minnesota and Nebraska) were two-time defensive Player of the Week honorees.
 
Hesse has been a mainstay for the Iowa defense over the past four seasons. A native of Waukon, Iowa, he has started 35 consecutive games and 46 career games. He has 52 tackles and ranks third on the team in tackles for loss (9-48) and sacks (4-27).
 
Recinos, a native of Mason City, Iowa, leads Iowa in scoring with 89 points. He has made 15-of-20 field goals, including a string of 11 straight from games three through 10. He ranks 14th in career scoring with 171 points, including 27-of-36 field goals, and is perfect on 90 career PATs. He has made 11-of-12 field goals from outside 40 yards.
 
Gervase is a native of Davenport, Iowa, who began his career as a walk-on. He leads Iowa with 83 tackles, including a team-best 45 solo stops. He has three interceptions for 22 yards and three pass break-ups.
 
Matt Nelson started Iowa's last 19 games at tackle after moving from end earlier in his career. The Cedar Rapids, Iowa, native recorded 27 tackles and is tied for second on the team with six pass break-ups.
 
Stone started the final eight games of the season in the secondary and made an immediate impact. The native of New Castle, Pennsylvania, had a pick-six against Penn State and has recorded 37 tackles. Stone and Hooker are tied for second in the Big Ten with four interceptions each.
 
Iowa (8-4) is bowl eligible for the 17th time in the last 18 seasons. Iowa's bowl destination and opponent will be announced Sunday.