IOWA CITY, Iowa — University of Iowa sophomore tight end T.J. Hockenson has been named the Kwalick-Clark Tight End of the Year in the Big Ten Conference. Junior tight end Noah Fant shares first-team All-Big Ten honors as well, as Fant was named to the first unit by league coaches and Hockenson is the first-team selection by conference media. The offensive honorees were determined by a vote of league coaches and media and announced by the Big Ten on Wednesday.
"The tight end position has been a real strength for our team this year," said Iowa head coach Kirk Ferentz. "To see both T.J. and Noah recognized is a credit to their performances throughout the season.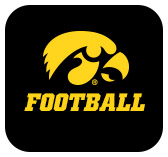 "Overall, we had a number of players gain well-deserved recognition over the past two days. To have three players named as the best at their position in a strong football conference speaks to their hard work, sacrifice, and determination."
Hockenson leads the Hawkeyes with 46 receptions for 717 yards. The Chariton, Iowa, native has six touchdown receptions and one rushing touchdown. He is one of three finalists for the John Mackey Award as the top tight end in the nation.
Fant is a native of Omaha, Nebraska, who was a semifinalist for the Mackey Award. He totaled 39 receptions for 519 yards in 2018 while leading the team with seven touchdown receptions.
Fant and Hockenson both have more than 1,000 career receiving yards, with Fant totaling 1,083 yards and Hockenson 1,037. The tandem combined for 90 receptions, 1,107 yards, and 13 touchdowns in 2018. Fant has 19 career touchdown receptions, most by an Iowa tight end and third best all-time among Big Ten tight ends. Hockenson has nine career scoring catches.
In addition to Fant and Hockenson, sophomore wide receiver Ihmir Smith-Marsette and four members of the offensive line earned recognition. Smith-Marsette, who was named the Rodgers-Dwight Return Specialist of the Year, earned honorable mention recognition from the media for his play at wide receiver to go with first-team honors as a return specialist. Smith-Marsette recorded 19 receptions for 332 yards and two touchdowns. His 17.5 average per catch ranks first among Iowa's primary receivers.
Sophomore left tackle Alaric Jackson, a native of Detroit, was named second-team All-Big Ten by coaches and media. Jackson started all 12 games and has started 23 games over the past two seasons. Senior Ross Reynolds, a native of Waukee, Iowa, who started all 12 games at left guard, was named second-team by league coaches and third team by media.
Senior Keegan Render earned third-team honors by media and honorable mention from coaches. Render started all 12 games at center in 2018. He has played in 51 career games and has 32 starts. He has played both guard and center and has seen action in every game over the past four seasons. Render is a native of Indianola, Iowa.
Sophomore Tristan Wirfs earned honorable mention honors from coaches and media. The Mount Vernon, Iowa, native started 11 games at right tackle and has 19 career starts in his two seasons.
"It's rewarding to see seniors such as Keegan and Ross recognized for their play," said Ferentz. "For Alaric and Tristan, the recognition can hopefully signal continued improvement and growth."
Iowa (8-4) is bowl eligible for the 17th time in the last 18 seasons. Iowa's bowl destination and opponent will be announced Sunday.
Following are Iowa's Big Ten Conference award recipients:
Kwalick-Clark Tight End of the Year:  T.J. Hockenson
Rodgers-Dwight Return Specialist of the Year:  Ihmir Smith-Marsette
Tatum-Woodson Defensive Back of the Year:  Amani Hooker
Sportsmanship Award: Parker Hesse
 
| | | |
| --- | --- | --- |
| Player | Coaches | Media |
| DE A.J. Epenesa | Second | First |
| TE Noah Fant | First | Second |
| DB Jake Gervase | HM | HM |
| DE Parker Hesse | – – – | HM |
| TE T.J. Hockenson | Second | First |
| DB Amani Hooker | First | First |
| OL Alaric Jackson | Second | Second |
| DE Anthony Nelson | Third | Second |
| DL Matt Nelson | HM | HM |
| K Miguel Recinos | HM | HM |
| OL Keegan Render | HM | Third |
| OL Ross Reynolds | Second | Third |
| KR Ihmir Smith-Marsette | Second | First |
| WR Ihmir Smith-Marsette | – – – | HM |
| DB Geno Stone | – – –    | HM |
| OL Tristan Wirfs | HM   | HM |