24 Hawkeyes to Watch | Hawk Talk Daily | Hawk Talk Monthly – November
By JAMES ALLAN
hawkeyesports.com
IOWA CITY, Iowa — The No. 14/15 University of Iowa men's basketball team has passed its first six tests of the 2018-19 season, but Friday's game is different.
 
For a second straight year, the Hawkeyes play the first of 20 Big Ten Conference games in November, facing No. 22 Wisconsin at 7:06 p.m. (CT) on Mediacom Court inside Carver-Hawkeye Arena.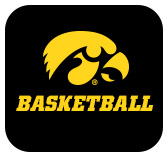 "They are a lot different, everybody knows everybody in the Big Ten," said junior forward Ryan Kriener. "You go from playing mid-major teams that you don't know as well to everybody knows everybody and everybody's favorite move.
 
"The scouting points are longer and you have a lot more information on them. You have to be that much more prepared because they know that on us, too."
 
Wisconsin's offense flows through senior All-America forward Ethan Happ. He leads the team in scoring (18 points), rebounding (12.3), and assists (23), while shooting 54.8 percent from the field.
 
"What makes him really good is he has a non-traditional game," said Kriener.
 
Then Kriener delves into the scouting report.
 
"He brings it up, is in the mid-post, then backs you down with two dribbles," says Kriener. "He spins, spins again, then it's up-and-under for a reverse layup. He plays a little different and he has a uniqueness to his game."
 
While Happ is Wisconsin's headliner, guard D'Mitrik Trice is the Badgers' missing piece.  After missing the final 23 games of the 2017-18 season because of injury, Trice is back and healthy, averaging 17 points with 24 3-pointers in seven games.
 
"He's playing as well as any guard we've faced on film," said Iowa head coach Fran McCaffery. "He makes (Brad) Davison better, Happ better, (Nate) Reuvers better, and (Khalil) Iverson better.  It's one of the reasons they're ranked."
 
Wisconsin is 6-1 this season with victories over Xavier, Stanford, and Oklahoma.  The Badgers' lone loss was a 53-46 setback against No. 4 Virginia in the Battle 4 Atlantis title game.
Junior guard Jordan Bohannon says Friday's game is important because it is the next game on the schedule and it's also an opportunity to build off the team's best start in five seasons.
 
"With the start we have had, this is a big game for us to continue to improve and start building our foundation for a Big Ten title that we hope to achieve," said Bohannon. "It starts with the first game and taking each day one day at a time.
 
"Starting out with Wisconsin doesn't get much tougher. They're one of the best teams in the conference right now, so it's going to be a battle."
 
Bohannon was impressed with the Hawkeyes' fight and toughness in Tuesday's 69-68 ACC/Big Ten Challenge victory over Pittsburgh.  Iowa battled back from a 46-40 first-half deficit with a gritty second half.
 
"What I have been impressed most with these guys is the willingness to keep fighting for a full 40 minutes," said Bohannon. "The first 20 minutes (against Pitt) wasn't pretty; it was one of the worst halves we had all year.
 
"I know (Tyler Cook) said (on Tuesday) that if this was last year we would have folded and lost by 10 or 20. This year, we fought back and only gave up 22 points in the second half. That shows the grit we have, knowing we're not going to fold to anyone and that we're going to out-tough anyone on our schedule."
 
That begins Friday night because Big Ten Conference games are different.
 
A limited number of tickets remain through the Iowa Athletics Ticket Office.  The game will be televised on BTN with Jeff Levering and Stephen Bardo on the call.