Hawkeye Fan Shop — A Black & Gold Store | Hawk Talk Daily links | 24 Hawkeyes to Watch | Fight For Iowa | Iowa v Iowa State Complete Results | PHOTO GALLERY
 IOWA CITY, Iowa — The University of Iowa swimming and diving team won its ninth straight Iowa Corn Cy-Hawk Series matchup over Iowa State, winning 162-138 on Friday night at the Campus Recreation and Wellness Center.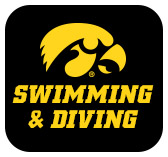 The victory clinches the 2018-19 Iowa Corn Cy-Hawk Series for Iowa.  The Hawkeyes also posted victories in football, volleyball, men's and women's basketball, and wrestling to take an insurmountable 13-6 lead with three competitions remaining. 
DIVING SWEEPS
The Hawkeyes got big contributions from the diving well, sweeping both the 1-meter and 3-meter springboards.  Junior Jayah Mathews (343.05), freshman Sam Tamborski (321.10), and senior Jacintha Thomas (299) placed among the top three spots for the first time this season off the 3-meter.
Iowa one-upped itself off the 1-meter with a 1-2-3-4 finish.  Mathews (315.35), Thomas (295.60), and Tamborski (294.05) occupied the top three spots, while sophomore Claire Park (285.95) finished fourth.
 
SEASON BESTS
Sophomore Kelsey Drake (53.64) and senior Kelly McNamara (53.80) swam to first and second place finishes in the 100 fly. McNamara's time was a season best.
 
Drake also won the 200 fly in a career-best time of 1:58.68.  She moved up one spot into second place in school history with the swim.
 
Senior Abbey Schneider won the first event on the night in the 1,000 free, earning a career-best time of 9:58.39 by breaking the 10-minute threshold.
Sophomore Lexi Horner also swam a season-best time in the 200 breast, finishing in 2:19.47.
 
SPRINTS PERFORM
Sophomore Sarah Schemmel (23.06) and senior Kelly McNamara (23.58) took first and third in the 50 free, starting a sprint domination for the night. Schemmel tied her career best time of 23.06.
Schemmel also finished first in the 100 free with a time of 50.25, only .1 off her career best. Junior Allyssa Fluit placed just behind her, earning second place in a time of 50.32, only .01 off of her career best.
HEARING FROM HEAD COACH MARC LONG
"We knew Iowa State was talented and prepared for this meet, so we knew we needed to perform at our best and have our people step up in every event. It was outstanding. It's great that it was the ninth year in a row to win this, but we're just trying to help our department.
 
"The atmosphere is different when it is just the girls. When it's just the women the meet moves so much differently. There's a certain flow, a go-go-go, which makes for a fun meet. After the 200-medley relay loss in the beginning, we got right back into it with no break. Watching the diving breaks and their phenomenal performances helped us. Every event counted."
 
HEARING FROM SOHPOMORE SARAH SCHEMMEL
"We had to stay on top of our races and I think we did a really good job of that. The takeaway from this meet is confidence for me. I'm swimming just as fast as at our midseason meet, which is a huge confidence booster for me. It feels great to come out on top again. The basketball team won last night and we said we had to keep it going."
 
UP NEXT
The Hawkeyes will take the to the boards at the USA Diving World University Trials on Dec. 16 in Atlanta.