Hawkeye Fan Shop — A Black & Gold Store | Hawk Talk Monthly — December | 24 Hawkeyes to Watch – 2018-19 | Hawk Talk Daily | I-Club Events Page
By JAMES ALLAN
hawkeyesports.com 
IOWA CITY, Iowa — There were injuries, various starting lineups, and mixing-and-matching among the University of Iowa linebacking corps throughout the 2018 regular season. Through it all, the Hawkeyes are a better unit heading into the Outback Bowl.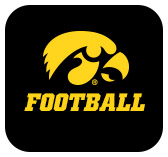 "I don't want to say we over-performed at that position, but I think from an expectations standpoint, there were positive things that have given us a jumpstart heading into next year," said Seth Wallace, Iowa's assistant defensive coordinator and linebackers coach.
 
There were growing pains along the way, but the linebacker unit helped the Hawkeyes to an eight-win regular season and Iowa is seventh nationally in total defense and 11th in scoring defense.
 
Four Iowa linebackers — Jack Hockaday, Djimon Colbert, Kristian Welch, and Nick Niemann — ranked among the top-nine on the team in tackles.  Hybrid linebacker/safety Amani Hooker is second on the team with 59 tackles and tied for the team lead with four interceptions.
 
"(Hooker's play) provided us with an edge throughout the season," said Wallace. "We made the right decision. He was the best person for that role."
 
Hockaday started the season as Iowa's second-team middle linebacker, but on the second series of the regular-season opener against Northern Illinois, Hockaday replaced starter Amani Jones.  Hockaday has started eight games and sits third on the team with 56 tackles.
 
"Jack played a significant role and was a surprise in some ways and in some ways he wasn't," said Wallace. "He was given an opportunity and did well."
 
Wallace commended Jones for his character on the other end of the starting equation. 
 
"The situation was not ideal," said Wallace. "It wasn't something we predicted, either.  It was something we had to go through and something I had to go through from a coaching standpoint.  It was hard because Amani is one of our hardest workers and he is a Hawkeye through and through.
 
"The one thing that speaks to his character is the way he handled it. He was still an exceptional special team's player and was exceptional on the sidelines. He was supportive of his teammates even after he lost his starting role. I tip the hat to him and what he has done."
 
Jones went from starting linebacker to special team's extraordinaire. He has 22 tackles in 12 games with one sack and two tackles for loss.
 
"He is through-and-through one of the best teammates on the team," said Wallace. "He saw an opportunity to find a different role and he took advantage of that special teams-wise."
 
Wallace was also impressed with what he saw from freshmen linebackers Seth Benson and Dillon Doyle. 
 
"Both of those young men could have easily been on the field," he said. "In some cases, they did in the roles where we needed them.  Those guys have a chance to be good players, both are diligent workers, have high character, are outstanding young men, and we're excited about their future.
 
"Hopefully they're pushing for playing time this time of the year and in the spring for next year."
 
The Hawkeyes will play in their sixth Outback Bowl on Jan. 1 against 18th-ranked Mississippi State.  The game will kickoff at 11 a.m. (CT) from Raymond James Stadium in Tampa, Florida.