Hawkeye Fan Shop — A Black & Gold Store | Hawk Talk Daily | Hawk Talk Monthly — November | 24 Hawkeyes to Watch
By JAMES ALLAN
hawkeyesports.com
 
IOWA CITY, Iowa — Saturday will be a run-and-gun afternoon for the 21st-ranked University of Iowa men's basketball team when it hosts Savannah State at noon (CT) on Mediacom Court inside Carver-Hawkeye Arena.
 
"Savannah State plays a unique style," explained Iowa head coach Fran McCaffery during a Friday teleconference.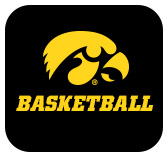 The unique style means the Tigers let it fly. 
 
Savannah State (3-10) has attempted 567 3-pointers in 13 games, averaging 43.6 attempts per game.  The Tigers have made 162 3-pointers for a 28.6 3-point field goal percentage. 
 
"Last night they only shot 27 3s and that's a small number," said McCaffery. "They are going to push it, shoot it quick, and they have multiple guys that can shoot 3s and go off the dribble."
 
The Tigers have attempted 40 or more 3-pointers in nine games.  The team has attempted 50 or more in three contests, including 57 in a road loss at Georgia on Nov. 9.
 
To compound the uniqueness, McCaffery says Savannah State will apply pressure on both makes and misses to "scramble the game."
 
"We have to handle that pressure and move the ball in a way without turning it over and make decisions on when to go and when not to go," said McCaffery.
 
The Hawkeyes will be without redshirt freshman Connor McCaffery against the Tigers. The guard is in concussion protocol after taking friendly fire (an elbow in the face from Tyler Cook) while going for a rebound in Tuesday's win over Western Carolina.
 
"It is one of those unfortunate situations, but Connor is progressing rapidly," said Fran McCaffery. "I would expect him to play in the next game (Dec. 29 against Bryant)."
 
In his son's absence, McCaffery said junior Maishe Dailey could fill in as the back-up point guard.  He also is comfortable with both Isaiah Moss and Joe Wieskamp in that role.
 
"There are a number of ways we could go," said McCaffery. "Austin Ash is a guy that is ready to get minutes if we need him to. We have options."
 
It's that depth that has impressed McCaffery through Iowa's first month and a half of the season.   Four different players have led the team in scoring as the Hawkeyes have won nine of their first 11 games.
 
"We can survive guys having an off game with other guys stepping up," he said. "That has been the most important thing. Various people have had big nights at different times. That is what you need; you need quality depth. We have a veteran group that is playing like a veteran group."
 
McCaffery has been pleased with the team's ability to defend as a unit, and the diversity the Hawkeyes have shown on the offensive end.
 
"I'd like to see us run more, but our ball movement has been good, our ability to share the ball (has been good) and we establish going inside, and (our rate of) getting to the free throw line has been impressive," said McCaffery. "Our perimeter guys have done a good job of getting the ball inside and recognizing that we have players that can score in there.
 
"That diversifies what we're doing. You're not a jump-shooting team, a post-up team, or a running team.  You're all of that."
 
McCaffery likes how the Hawkeyes have progressed, but he also understands what lies ahead.
 
"I am pleased with where we are at, but I recognize that we have tough games the rest of the season and we have to continue to get better," said McCaffery.
 
Tickets are available for Saturday's game through the Iowa Athletics Ticket Office at hawkeyesports.com/tickets.  The game will be streamed live on BTN Plus on BTN2Go with Rob Brooks and Zach Mackey on the call.