24 Hawkeyes to Watch 2018-19 | Hawk Talk Monthly — December | Hawk Talk Daily links | Swarm19 Signing Day | Outback Bowl Central | I-Club Events Page | VIDEO — Coach Ferentz Talks Previous Outback Bowls
By DARREN MILLER
hawkeyesports.com
IOWA CITY, Iowa — Head coach Kirk Ferentz has led University of Iowa football to 16 bowl games over the past 18 seasons, including six Outback Bowls in Tampa, Florida.
 
When the Hawkeyes (8-4 overall) and No. 18 Mississippi State (8-4) tangle inside Raymond James Stadium on Jan. 1, it will mark Iowa's 11th appearance under Ferentz in the month of January.
 
The Hawkeyes are 2-3 in five previous Outback Bowls.
 
Jan. 1, 2004 — Iowa 37, Florida 17 (67 degrees at kickoff)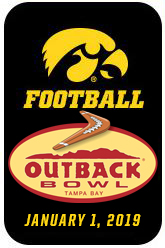 Iowa scored 27 straight points after falling behind, 7-0, on a 70-yard touchdown pass from Florida's Chris Leak to Kelvin Kight.
 
On the next five possessions, the Hawkeyes limited Florida to 28 yards on 17 plays. Iowa's Matt Malloy provided the biggest play when he blocked Eric Wilbur's punt and recovered the ball in the end zone for a 27-7 lead.
 
"Like most bowl games, we were underdogs and like any Outback Bowl, you are playing a really good SEC team and Florida had a good team," Iowa head coach Kirk Ferentz said. "Chris Leak was their quarterback, a guy we tried to recruit. It was one of those games where the first half was evenly contested and then Matt Malloy, not on a planned block, but he was just rushing, forcing the punter, and blocked the punt in the second half — that seemed to turn the tide."
 
Fred Russell rushed for 150 yards on 21 carries and Nathan Chandler completed 13-of-25 passes for 170 yards with a touchdown to Maurice Brown. Brown caught six passes for 96 yards.
 
"Fred Russell had a big day rushing the football and we thought that would be a challenge the way Florida packed its defense in there," Ferentz said. "Our guys did a good job up front blocking and it was a big win for us.
 
"Nathan Chandler probably played as good a game — that or the Michigan game (17-of-34 for 195 yards and two touchdowns) that year were probably his best two games."
 
Nate Kaeding made field goals of 32, 38, and 47 yards. Sean Considine and Abdul Hodge were Iowa's tackle leaders with nine and eight, respectively.
 
Jan. 2, 2006 — Florida 31, Iowa 24 (72 degrees at kickoff)
Iowa scored 17 points in the fourth quarter after falling behind 31-7, but a controversial penalty negated Scott Chandler's recovery of an onside kick at Florida's 45-yard line.
 
The official's ruling was not favorable to analyst Chris Spielman, who was broadcasting the game for ESPN.
 
"That's a bad call," Spielman said. "I get upset because (Chad Greenway) is not across the line. There is too much on the line to keep missing calls."
 
Iowa gained 410 yards with 346 coming on 32 Drew Tate pass completions. His main targets were Ed Hinkel (nine catches, 87 yards, two touchdowns), Clinton Solomon (7-96-1), and Chandler (7-89). Abdul Hodge made 19 tackles (14 solo).
 
"We had an opportunity to get the ball back (on the onside kick) and at that point it looked like we did," Ferentz said. "We were pretty hot at that point, so you would like to think we would have drawn right into the game, but it wasn't meant to be. It was a tough loss."
 
Jan. 1, 2009 — Iowa 31, South Carolina 10 (65 degrees at kickoff)
Shonn Greene ran for 121 yards and three touchdowns leading Iowa to a 31-0 lead after three quarters.
 
Much like 2018, Iowa lost three games in a row (Pittsburgh, Northwestern, Michigan State by a combined eight points) during the regular season.
 
The Hawkeyes opened the game with a 13-play, 64-yard scoring drive capped by a 6-yard pass from Ricky Stanzi to Trey Stross. Iowa scored less than three minutes later after Tyler Sash intercepted South Carolina quarterback Stephen Garcia and returned it 29 yards to the Gamecock 18-yard-line.
 
"We were playing well down the stretch and I think that momentum carried over to the bowl game," Ferentz said. "We played well on defense."
 
Sash intercepted two passes and Bradley Fletcher picked off another. Pat Angerer led the Hawkeyes with six tackles and a sack.
 
South Carolina gained 143 of its 313 yards in the fourth quarter.
 
"It was a good game where we were balanced offensively," Ferentz said. "Shonn ran the ball extremely well, like he did all season, and that was a nice way to cap off that year."
 
Iowa ran the ball 47 times for 181 yards and Stanzi completed 13-of-19 passes for 147 yards.
 
Jan. 1, 2014 — Louisiana State 21, Iowa 14 (61 degrees at kickoff)
How talented was Iowa's opponent in the 2014 Outback Bowl? The Louisiana State offense featured receivers Odell Beckham and Jarvis Landry and running backs Jeremy Hill and Alfred Blue, all who currently play or played in the NFL.
 
Hill did the most damage, running for 216 yards and two touchdowns. He picked up 42 yards on the first play from scrimmage.
 
"They were pretty talented," Ferentz said. "A couple of their linemen went to the NFL as well as a lot of their guys on defense. They were a talented team, not unlike the LSU team we played in the 2005 Capital One Bowl."  
 
A 2-yard touchdown run by Mark Weisman pulled the Hawkeyes within 14-7 with 5:52 left in the third quarter. That score was set up by John Lowdermilk's interception and 71-yard return to LSU's 1-yard line.
 
In the fourth quarter, Jordan Cotton returned a kickoff 96 yards to the LSU 4. Quarterback C.J. Beathard completed a 4-yard touchdown pass to Kevonte Martin-Manley, bringing the Hawkeyes within a touchdown with 1:42 remaining.
 
"We had our chances, we just couldn't quite close it out against a talented LSU team," Ferentz said.
 
Jan. 2, 2017 — Florida 30, Iowa 3 (83 degrees at kickoff)
Don't be deceived by the final score — this game was 3-3 after the first quarter and 10-3 at halftime. The lone touchdown in the first 30 minutes came on an 85-yard screen pass with 1:46 left in the half. 
 
"People might disagree, but I thought that score was misrepresentative of the game," Ferentz said. "To me, the story of the game was we couldn't convert on fourth down inside (the red zone). We had a chance and couldn't make the play — it was a makeable play in my mind.
 
"Then they hit that receiver screen for a long play. Those two plays changed the whole complexion of the game."
 
With the game tied 3-3 and 13 minutes to play in the second quarter, Iowa put together a 61-yard drive that began at its own 36. Included were runs of 27 yards by Akrum Wadley and 11 yards by LeShun Daniels, Jr. An 18-yard completion from C.J. Beathard to George Kittle gave the Hawkeyes first-and-goal from Florida's 10. On fourth-and-goal from the 1, Daniels was pushed back for a loss of two yards.
 
Iowa trailed 10-3 on it first drive of the second half. The Hawkeyes got to Florida's 12, but Keith Duncan missed wide right on a 30-yard field goal attempt.
 
"It was going to have to be a tight, close game for us to win," Ferentz said. "(Florida) ended up winning by a significant amount, but if anybody was at the stadium, they would say it was a totally different game than what that score reflected.
 
"The bottom line is we didn't make the plays we had to make if we were going to beat a good Florida team."
 
Jan. 1, 2019
Kickoff is 11 a.m. (CT). The game will be televised by ESPN2.