24 Hawkeyes to Watch 2018-19 | Hawk Talk Monthly — December | Hawk Talk Daily links | Outback Bowl Central | I-Club Events Page | Swarm19 Signing Day | VIDEO — Nate Wieting
By DARREN MILLER
hawkeyesports.com
IOWA CITY, Iowa — If you were to script a dream first collegiate pass reception, it would go something like this:
 
You are playing in a bowl game inside an iconic stadium in front of 38,000 fans. The score is tied. With less than four minutes to play, you make a catch and sprint for the game-winning touchdown.
 
This is your life, Nate Wieting. Sort of.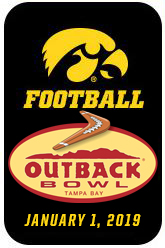 Wieting, a 6-foot-4, 250-pound University of Iowa junior tight end, turned that dream into reality in the 2017 New Era Pinstripe Bowl. Except for the final 12 inches. Even then, it took a video review to overturn what was originally ruled a touchdown.
 
"It's always tough to get that first catch," Weiting said. "You're a little nervous when you get the ball thrown your way, but I was able to bring it in and get good field position for our team to put the ball in the end zone."
 
When play resumed after the review, fullback Drake Kulick bulled in for a score and the Hawkeyes defeated Boston College, 27-20.
 
"It was a pretty cool moment," Wieting said. "I was playing a decent amount of snaps with (fellow tight ends) Noah (Fant) and (T.J.) Hockenson. (Offensive coordinator) Brian (Ferentz) called a sail route off play-action and (the Eagle defenders) dropped me playing the run. I turned the corner, Stan (quarterback Nate Stanley) found me with the ball, I saw the pylon, and tried to get there. I ended up being a little short, but it was quite a moment."
 
It might have been a blessing because after the "delayed" score, Boston College had only three minutes to cover 70 yards for a tying touchdown. Iowa All-America cornerback Joshua Jackson secured victory with his eighth interception of the season.
 
"It was close to being a touchdown and that helped us burn the clock," Iowa head coach Kirk Ferentz said. "That was a good thing. It took a little time off the clock by not scoring on that play."
 
Wieting laughs at the notion. He's not a selfish guy, but he had no intention of stopping short of the end zone.
 
"We have situations where we are supposed to get down inside the 5-yard-line so we can kill more clock," Wieting said with a smile. "That was not one of those situations. We were trying to score the ball, get a lead, play defense, and make them drive the ball to score on us."
 
It wasn't just because of his Pinstripe Bowl heroics, but in August, Wieting, a walk-on from Rockford, Illinois, was put on scholarship. 
 
He doubled his catch total in 2018, making grabs against Northern Illinois and Purdue for a combined 51 yards. With Fant declaring for the NFL Draft and bypassing the Outback Bowl, Wieting is expected to play an even bigger role this postseason.
 
"We have been impressed with his progress and growth," Ferentz said. "There is an opening for more opportunity for him and he will be the next tight end in. We'll pair him with T.J. and I think he will do a fine job. When he has been in there, he has played well and we expect him to continue to improve."
 
Wieting isn't what Ferentz describes as a "burner," but he his hands are reliable and he has a knack finding space.
 
"He has always done a good job getting open and making good, tough catches, but his biggest opponent has been the injury front," Ferentz said. "It's good to have him healthy."
 
Wieting missed the first four games of the 2017 season because of injury. He also sat out the Hy-Vee Heroes Game against Nebraska on Nov. 23, but is ready for to go for the Outback Bowl.
 
"We're known to have good tight ends at Iowa, so there are big shoes to fill," Wieting said. "Brian (Ferentz) will do the best job to put us in the best positions to succeed. It's not just T.J. and Noah, it's also Shaun Beyer, Drew Cook, some of those younger guys. We're trying to improve right now and be prepared for this game."
 
Iowa (8-4) and No. 18 Mississippi State (8-4) will meet in the Outback Bowl on Jan. 1 inside Raymond James Stadium. Kickoff is 11 a.m. (CT).