24 Hawkeyes to Watch 2018-19 | Hawk Talk Monthly — December | Hawk Talk Daily links | Outback Bowl Central | I-Club Events Page | Swarm19 Signing Day
By DARREN MILLER
hawkeyesports.com
IOWA CITY, Iowa — University of Iowa senior wide receiver Nick Easley's winding path to Division I Power 5 football comes to a close Jan. 1 at the Outback Bowl in Tampa, Florida.
 
"With the way it worked out, I wouldn't change it for anything," said a reflective Easley.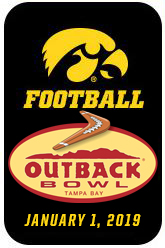 The journey started at Newton (Iowa) High School, where Easley was an all-state wide receiver, an all-state punter, and kicker. Despite his productivity, (he ended his career as the school's all-time leading receiver) his only collegiate offer came from Division II Missouri Western.
 
The Griffons wanted Easley to pull double duty as a wide receiver and punter.
 
"I was decent (at punting). I could boom it (as a kicker), I think I led the state in touchbacks my senior year," said Easley. "But I didn't want to do that."
 
Easley wasn't high on taking his talents to St. Joseph, Missouri, because he thought he was capable of playing at the highest level.
 
"I felt I could do better than that," said Easley. "(Missouri Western) is a good program, but I always wanted to play somewhere bigger. Not having that opportunity out of high school and talking to the coaches at Iowa Western, I felt like I might be able to do that."
 
Easley landed with the Reivers in Council Bluffs, Iowa, but following his freshman season, it was a question of whether he would continue. Easley played behind two prominent receivers — Anthony Johnson, who now plays collegiately at Buffalo and is a potential high-round NFL Draft pick, and Taj Williams, the then No. 1 junior college recruit in the country.
 
"My first year (at Iowa Western) I hated it," said Easley. "I remember talking to my dad and saying I don't know if I want to do this anymore.  I went back, had a good year, and got this opportunity to come (to Iowa)."
 
Easley was the Reivers' go-to receiver as a sophomore. He earned NJCAA All-America honors after making 72 receptions for 954 yards.  His play opened a door for a walk-on opportunity with the Hawkeyes and in two seasons since, Easley has made the most of it.
 
He rose quickly from walk-on to starter to de facto leader of Iowa's wide receiver room.  In his first season with the team, he led the Hawkeyes in receptions and receiving yards, finishing with 51 catches for 530 yards. This season he has 44 catches — second-most on the team — for 390 yards.
 
Heading into his final game as a Hawkeye, Easley needs just five catches to give him 100 for his career.
 
"I don't know if we can replace what he has done because what he has done is remarkable," said Iowa wide receivers coach Kelton Copeland. "He doesn't get the accolades and awards like some other guys, but when a guy comes from junior college, gets better every day and the next thing you know he has a starting role, that's impressive.
 
"He gets my vote for one of the best I have coached.  You can't replace that."
 
There is one more game, one more Swarm, and one more opportunity for Easley to reflect on his winding collegiate journey.
 
"All seniors appreciate their time at Iowa, we'll look back at it and cherish it forever," said Easley. "Looking back, taking the path I did was different than most people. It means a lot to me."
 
Iowa will face No. 18 Mississippi State on Jan. 1 at Raymond James Stadium.  Game time is 11 a.m. (CT).