Outback coverage: Nate Wieting | Outback coverage: Outback Memories | Outback coverage: Hauling the Hawkeyes to Tampa | Outback coverage: Miguel Recinos | Outback coverage: Nate Stanley | Hawk Talk Monthly — December | Outback Bowl Central | Outback coverage: Nick Easley | Swarm19 Signing Day | I-Club Events Page | Outback coverage: Amani Hooker | 24 Hawkeyes to Watch 2018-19 | Hawk Talk Daily links | VIDEO — Ryan Schmidt
By DARREN MILLER
hawkeyesports.com
IOWA CITY, Iowa — If it's Wednesday of a college game week, then one of the most competitive members of the University of Iowa football team is particularly eager to practice.
 
In the Hawkeyes' schedule, Wednesday is a full-pads practice with substantial scout team participation. It is the final physical contact of the week — scout team game day if you will — and the scouts are expected to leave it all on the field.
 
It is a day Ryan Schmidt looks to with anticipation.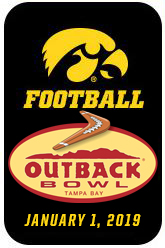 Fans have never seen Schmidt in game action and there is a strong chance they have never heard his name. Would you recognize him in public? Maybe, if you are a close friend or family member. On the roster he is listed as No. 17, a number he shares with wide receiver-turned-defensive back Devonte Young. Young has played in 12 games this season, Schmidt has played zero.
 
Still, the 6-foot-5, 235-pound quarterback is a valuable piece of the Hawkeye puzzle. What further clouds the numbers game for Schmidt is that during the week, his No. 17 jersey is swapped for that of the opposing starting quarterback — for example, No. 2 before playing Nebraska, No. 1 before Illinois, or No. 18 before Northwestern.
 
Schmidt is Iowa's scout team quarterback. He is also a legacy Hawkeye. His father, Rick, played defensive back for head coach Hayden Fry, earning three letters from 1984-86.
 
"My whole family went here and I grew up a lifelong Hawk," Schmidt said. "To get the chance to play here was a tremendous opportunity and something I dreamed of my whole life. I'm grateful to be part of the team and I give my all every day."
 
The Dec. 17 practice had ended for more than an hour and many of Schmidt's teammates met with media in front of television cameras or voice recorders. Schmidt walked undetected out of the Richard O. Jacobson Football Operations Building holding a Styrofoam container that included a warm bounty from the training table.
 
Leading up to Iowa's sixth trip to "football in paradise" in Tampa, Florida, Schmidt will don a red No. 7, the same jersey number worn by Mississippi State quarterback Nick Fitzgerald. This season, Fitzgerald has thrown for 1,615 yards and 15 touchdowns; Schmidt is a worthy imitation.
 
"My mindset is to do everything I can for the team," Schmidt said. "I'm a team-first guy. If they want me on the scout team, that's perfect; I will give my best look to the defense and do what I can to help the team win."
 
At Iowa's annual banquet Dec. 9, Schmidt was one of six recipients of the Team Leader Award. The others are Monte Pottebaum, Austin Schulte, Colton Dinsdale, Terry Roberts, and Mike Timm.
 
As a senior at Linn-Mar (Iowa) High School, Schmidt led the Lions to a 9-2 record and a berth in the Class 4A state playoffs. He passed for 1,541 yards and 14 touchdowns and ran for 658 yards and 21 scores. Still, in a quarterback room that includes junior Nate Stanley, redshirt freshman Peyton Mansell, and true freshman Spencer Petras, chances are slim that Schmidt will ever see the game field.
 
He is a star on the practice field.
 
"I bleed black and gold," Schmidt said. "I have been a huge fan my whole life and it was my dream as a kid to play here. To get a chance to be part of the team is huge for me; this is a great school, it is the whole package."
 
Schmidt is respected among Iowa's quarterbacks. He is one of Stanley's best friends and whether he knows it or not, has taught Iowa's starting signal caller a few lessons over the past three seasons.
 
"It is more about his attitude he comes with every day. I try to follow what he sets as an example for that because he always comes with a positive attitude," Stanley said. "He makes the most out of every day and has never complained. He gives it his all every day and pushes himself to know the offense as well as I do."
 
In 3 ½ years, Schmidt, a redshirt junior, has earned an undergraduate degree in finance, a minor in Spanish, and will begin a one-year master's program next semester. He is a two-time Academic All-Big Ten selection.
 
"I think he has enjoyed the experience," Iowa head coach Kirk Ferentz said. "He brings a positive attitude every day and impacts and affects his teammates in a positive way.
 
"He is a great young man and has a (grade-point average) that is out of sight."
 
The first time Schmidt suited up for a Hawkeye game was Sept. 19, 2015, the night Marshall Koehn kicked a 57-yard game-winning field goal to defeat Pittsburgh, 27-24.
 
"Any win for the Hawkeyes is great for me," Schmidt said. "Being part of the (postgame) locker room is a big reason guys play this sport. It's the same for me."
 
This will be the fourth bowl — and second Outback — trip for Schmidt. He won't play in the game on Jan. 1 in Raymond James Stadium. His work will be completed days in advance.
 
"I'm not recognized as much because I don't play," Schmidt said. "But I love the sport and that is a big reason for me to keep going."