Outback coverage: Miguel Recinos | Outback coverage: Nate Stanley | Hawk Talk Monthly — December | Outback Bowl Central | Outback coverage: Nick Easley | Swarm19 Signing Day | Outback coverage: Ryan Schmidt | I-Club Events Page | Outback coverage: Amani Hooker | Hawk Talk Daily links | 24 Hawkeyes to Watch 2018-19 | Outback coverage: Nate Wieting | Outback coverage: Outback Memories | Outback coverage: Hauling the Hawkeyes to Tampa | Photo Gallery | VIDEO — Arrival in Tampa
By DARREN MILLER
hawkeyesports.com
TAMPA, Fla. — One of the first steps to winning an Outback Bowl championship is arriving safety in Tampa. The Hawkeyes did that Wednesday, a few minutes before 4 p.m. local time.
 
"We know we're going up against a top SEC opponent, ranked in the top 20," Iowa senior safety Jake Gervase said on the tarmac of Tampa International Airport. "A bowl game is always a different challenge with the longer preparation, but it's a game we're looking forward to."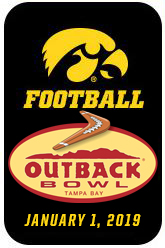 The Hawkeye student-athletes and coaches enjoyed breakfast in the Stew and LeNore Football Performance Center before boarding an Omni Air International Boeing 777 at Eastern Iowa Airport in Cedar Rapids. The travel party of 303 departed at 12:45 p.m. (CT) and landed in Tampa two hours and 12 minutes later (3:57 Eastern time).
 
After a 16-minute bus ride to Westin Harbour Island Hotel, the Hawkeyes can begin putting the finishing Florida touches on prep work that originated in Iowa.
 
"Now it's a matter of being ready to go next Tuesday when we step on the field (for the Outback Bowl)," said senior center Keegan Render. "We've been ready from the first snap; now it is going out there attacking and trusting in what we have been doing this whole month."
 
When Iowa seniors like Gervase and Render opened fall camp, they were assured at least a 12-game schedule of regular-season games over three months. After a 23-0 Homecoming win over Maryland on Oct. 20, they knew they would have another month of postseason added after playing the Hy-Vee Heroes Game on Nov. 23.
 
Now their careers are down to less than a week.
 
"It is kind of surreal, it comes at you fast, especially this last year," Render said. "I'm looking forward to it, spending a lot of quality time this week with the rest of the guys and taking every opportunity as it comes."
 
Iowa (8-4) and No. 18 Mississippi State (8-4) meet Jan.1 in the 33rd annual Outback Bowl inside Raymond James Stadium. Both teams closed the regular season by winning their final two games.
 
While this is the first trip to the Outback Bowl for Mississippi State, the Hawkeyes are making their sixth appearance since the 2003 season. Iowa defeated Florida, 37-17, on Jan. 1, 2004 and knocked off South Carolina, 31-10, on Jan. 1, 2009.
 
Gervase said the Hawkeyes are here to succeed in the 2019 game as well.
 
"I thought we have had a good bowl prep for the last couple weeks," Gervase said. "The younger guys got a lot of reps at the beginning of it and we put a good game plan in place as soon as we started Mississippi State prep. We're going to make some corrections here in the next week and be ready to go Jan. 1."
 
The Hawkeyes will have the evening off before resuming practice Thursday morning at the University of Tampa.
 
"We will try to enjoy the experience with teammates and make the most out of each day, whether it's on the field or hanging out off the field," Gervase said.
 
As for Render?
 
"I'll get together with a couple other linemen, go out to eat and just walk around," he said.
 
To view an Outback Bowl Central page, click HERE.