Outback coverage: Nate Wieting | Outback coverage; Touch Down in Tampa | Outback coverage: Outback Memories | Outback coverage: Hauling the Hawkeyes to Tampa | Outback coverage: Amani Hooker | Outback coverage: Nick Easley | Outback Bowl Central | Outback coverage: Ryan Schmidt | Outback coverage: Austin Schulte | Thursday Practice Photo Gallery | Outback coverage: Miguel Recinos | Outback coverage: Nate Stanley
By CHRIS BREWER
hawkeyesports.com
TAMPA, Fla. — The voices coming from Iowa's offense following the Hawkeyes' first practice in Tampa on Thursday agreed on three things.
 
The weather is beautiful. Mississippi State has a very good football team. And, Iowa needs to establish the run.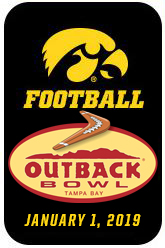 "It is the best defense we've seen this year," said Iowa offensive coordinator Brian Ferentz. "They are a good unit. Look at any meaningful statistic and they're in the top five in the country. There is a reason for that. They do a nice job. They make big plays. They certainly make it difficult for opponents to run the ball."
 
The Bulldogs are No. 18 in the College Football Playoff rankings, their highest mark since landing at No. 7 in 2014, and have won eight games behind a defense that has allowed only 12 touchdowns in 12 games.
 
Iowa has scored 43 touchdowns through 12 games — 19 on the ground and 24 through the air.
 
"The run game sets up the passing every game, just as it has in the past," said tight end T.J. Hockenson, who leads Iowa in receptions (46) and receiving yards (717). "Mississippi State has a good team. They have great lineman, a great secondary, great linebackers, they're a good defense. It's a challenge for us, but at the same time we're excited for it."
 
Running the ball hasn't been an issue in Iowa's last two games, both wins. The Hawkeyes rushed for 203 yards at Illinois in Week 11 and a season-high 266 yards Week 12 against Nebraska. Neither of those teams are playing past the regular season, but Iowa executed its game plan against both, and will need to do the same against Mississippi State.
 
"What you have to do is show up, prepare, and do the best you can," said Brian Ferentz.
 
"We need to line up. We need to find a way to do the things that we do and have success on early downs to hopefully get us in a position to be successful on later downs. But these guys are good on third down. They're good in the red area. We're going to have to make some plays."
 
Seven times this year Iowa's offense has scored 30 points or more. That is seven times more than Mississippi State's defense has allowed this season, only two other FBS schools have yet to surrender 30 points in at least one game. That's not Iowa's magic number by any stretch, but another illustration of the challenge ahead.
 
"I feel like every game is a challenge," said Mekhi Sargent, who has rushed for 100-plus yards in each of the last two games. "Every game is a challenge every step of the way. They have a good d-line. All around, they are a good football team.
 
Sargent rushed for a career-high 173 yards the last time Iowa took the field. That game was in Iowa City. It's been three years since the Florida native played a football game in his home state. He doesn't want to disappoint.
 
"Putting on a good performance is something I think about every day when I wake up and before I go to sleep. Being back in Florida for the first time since high school, playing in a football game, I can't settle for anything less. I'm going to go out there and play my hardest."
 
Iowa (8-4) and No. 18 Mississippi State (8-4) meet Jan.1 in the 33rd annual Outback Bowl inside Raymond James Stadium. Kickoff is 11 a.m. (CT). The game is televised on ESPN2.
To view an Outback Bowl Central page, click HERE.