VIDEO — Friday Practice | Outback coverage: Outback Memories | Outback coverage: Hauling the Hawkeyes to Tampa | Outback coverage: Miguel Recinos | VIDEO — LeVar Woods | VIDEO — Rastetter, Recinos | Outback coverage: Nick Easley | Outback coverage: Nate Wieting | Outback coverage: Nate Stanley | Outback Bowl Central | Photo Gallery | Outback coverage: Defense | Outback coverage: Brandon Smith | Outback coverage: Team Night at Lightning | Outback coverage: Ryan Schmidt | Hospital Visit Gallery | Outback coverage: Offense | Outback coverage: Austin Schulte | Outback coverage; Touch Down in Tampa | Outback coverage: Amani Hooker
By MATTHEW WEITZEL
hawkeyesports.com
Tampa, Fla. — Football team members from both the University of Iowa and Mississippi State took a break from their Outback Bowl preparation Friday afternoon to visit patients at the Children's Medical Center at the Tampa General Hospital.
 
Hawkeye players joined together with the Bulldogs to pose for photos, sign autographs, talk football, and school spirit with patients.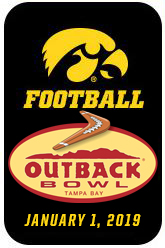 Iowa makes a habit of visiting local children's hospital at home and on bowl trips. Today was the Hawkeyes' third visit since the Outback Bowl started its partnership with Tampa General Hospital in 2013.
 
"We enjoy this visit every year," said Tampa General Hospital senior public relations specialist Ellen Fiss. "This is the highlight of our season. The patients, the families, the staff, everyone loves this visit. It means so much that these busy football players, who are in the midst of getting ready for their competition, take the time out to meet our patients. It is something they will never forget."
 
One of the patients the teams stopped by to visit was 17-year-old Savannah, who said she enjoys watching football.
 
"Seeing the players come in made me happy and helped lift my spirits," said War. "It's always so nice when you get visitors because you get bored."
 
Tampa General Hospital is a 1,010-bed teaching hospital in downtown Tampa, located on Davis Islands. Tampa General Hospital has more than 8,000 staff and is the primary teaching hospital for the USF Health Morsani College of Medicine.
 
Max Cooper was one of seven Hawkeyes who volunteered his time on Friday. The sophomore wide receiver said hospital visits are all about bringing hope and smiles to the faces of the patients.
 
"It was nice to see them smile," Cooper said. "It's hard to see people sit in those beds. What they are going through is much harder than what we go through on the field. We want to bring them hope and try to lift their spirits up with everything that they are going through."
 
Spending time with the patients was paramount, but the players also had the chance to meet and talk with players from Mississippi State.
 
"At the end of the day, Tuesday's game is a friendly competition," added Cooper. "It was nice to meet new people, while also helping put some smiles on the faces of the patients."
 
The Hawkeyes resume preparation for next week's Outback Bowl versus Mississippi State Saturday morning at the University of Tampa.  
Iowa (8-4) and No. 18 Mississippi State (8-4) meet Jan. 1 in the Outback Bowl inside Raymond James Stadium. Kickoff is 11 a.m. (CT). The game will be televised on ESPN2.
To view an Outback Bowl Central page, click HERE.