VIDEO — Friday Practice | Outback coverage: Outback Memories | Outback coverage: Hauling the Hawkeyes to Tampa | Outback coverage: Miguel Recinos | Outback coverage: Nate Stanley | Outback Bowl Central | Photo Gallery | Outback coverage: Brandon Smith | Outback coverage: Team Night at Lightning | Outback coverage: Ryan Schmidt | Outback coverage: Offense | Outback coverage: Austin Schulte | Outback coverage: Amani Hooker | Outback coverage; Touch Down in Tampa | Outback coverage: Nick Easley | Outback coverage: Nate Wieting | VIDEO — LeVar Woods | VIDEO — Rastetter, Recinos | Outback coverage: Defense
By DARREN MILLER
hawkeyesports.com
TAMPA, Fla. — The Outback Bowl is an appropriate setting for the University of Iowa football team to continue its emphasis on special teams.
 
It was inside Raymond James Stadium on Jan. 1, 2004, where Iowa's Matt Malloy provided the biggest play of the game when he blocked a Florida punt and recovered the ball in the end zone, giving Iowa a 27-7 lead. The Hawkeye won that Outback Bowl, 37-17.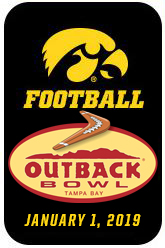 "Matt Malloy, not on a planned block, but he was just rushing, forcing the punter, and blocked the punt in the second half — that seemed to turn the tide," Iowa head coach Kirk Ferentz said.
 
The Hawkeyes are back in the Outback Bowl and they back to dedicating themselves on special teams. In 12 regular season games, Iowa has six more field goals than its opponents. The Hawkeyes average 10.7 more yards than opponents on kick returns and 9.8 more yards than opponents on punt returns.
 
"We have good kids who have bought in across the board — returners, specialists, core players," said LeVar Woods, Iowa special teams coach. "They have bought in and have taken to the importance of special teams at the University of Iowa. That is the most enjoyable thing about this group."
 
Ironically, on the first series of the season, the Hawkeyes were victims of a blocked punt. They turned the special teams tide from there.
 
Against Minnesota on Oct. 6, T.J. Hockenson scored on a 4-yard "swinging gate" run out of field goal formation. On Oct. 27 at Penn State, defensive tackle Sam Brincks hauled in a 10-yard touchdown pass from punter Colten Rastetter. On Nov. 23, Rastetter improved to 4-for-4 passing on his career, competing a 1-yard toss to Hockenson.
 
Woods smiles when recounting special teams highlights.
 
"Watching Sam Brincks score a touchdown, which has been a long time coming for him," Woods said. "Also some of the returns; (sophomore tight end) T.J. Hockenson scored a touchdown as well. Along with a guy like Kyle Groeneweg, who paid his dues and sat out last year and as a fifth-year senior finally got his opportunity. Watching (sophomore) Ihmir Smith-Marsette grow throughout the year, it has been fun."
 
Woods has had more than a month since the final regular-season game to stash a few more tricks up his sleeve.
 
"I have had a month," he said. "Every week we have something; I don't want to tip my hand on that, but we will try to work on some things and see what we can come up with."
 
Every time an opponent kicks a football, excitement seems to ensue at the other end. Groeneweg averages 10.2 yards per 23 punt returns. His long of 61 went for a touchdown at Illinois. Smith-Marsette is second in NCAA Division I with a 29.3 average on 19 kickoff returns. Groeneweg (two returns, 27-yard average) and Devonte Young (3-21.3) have also returned kicks.
 
"It's not just (Ihmir) and he knows that," Woods said. "There is an entire unit out there that works every day and works tirelessly trying to get him in position."
 
The person most responsible for switching field position is Rastetter, a junior from Guttenberg, Iowa. Not only are his career passing statistics off the chart (4-for-4, 44 yards, one touchdown), but he has also punted 46 times this season for an average of 39.6 yards per punt. Included in that total are 19 that were downed inside the 20 and four of 50-or-more yards.
 
"This game presents a big challenge, because it's going to come down to special teams like any game," Rastetter said. "It will take our kicking game to create that edge for us and we will utilize that to the best of our ability."
 
The last time Iowa's place kicker was on the field, he was sprinting around the Kinnick Stadium turf after connecting on a game-winning 41-yard field goal over Nebraska. This season, senior Miguel Recinos has made all 44 point-after attempts and 15 of 20 field goals.
Iowa (8-4) and No. 18 Mississippi State (8-4) meet Jan. 1 in the 33rd annual Outback Bowl inside Raymond James Stadium. Kickoff is at 11 a.m. (CT). The game is televised on ESPN2.
To view an Outback Bowl Central page, click HERE.