Outback coverage: Nate Wieting | Outback coverage; Touch Down in Tampa | Outback coverage: Amani Hooker | Outback coverage: Nick Easley | Outback Bowl Central | Outback coverage: Ryan Schmidt | Outback coverage: Austin Schulte | Thursday Practice Photo Gallery | Outback coverage: Miguel Recinos | Outback coverage: Nate Stanley | Outback coverage: Offense | Outback coverage: Outback Memories | Outback coverage: Hauling the Hawkeyes to Tampa | Trike & Spike Photo Gallery
By MATTHEW WEITZEL
hawkeyesports.com
TAMPA, Fla. — Boos cascaded onto the ice during the first intermission from a sold out Amalie Arena crowd Thursday evening after the on-host ice announced the winner of the "Trike & Spike" race.
 
A controversial ending in the race led to Mississippi State being announced the winner, despite Iowa junior Amani Hooker completing the required elements… just not in the correct order for the host.
 
"The ending was controversial. You heard the boos when they announced who won. We'll leave it at that," junior T.J. Hockenson light-heartedly said.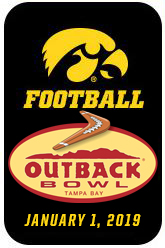 The on-ice competition pitted three Hawkeyes against three Bulldogs. The race started with two players from each team lined up in each face-off circle. One player rode a tricycle from one end of the ice to the other, then shot a hockey puck into the goal. Once the first leg of the race was accomplished, the second player repeated the process and then the final player rode the length of the ice and spiked a football.
The confusion was that instructions to shoot the final puck before the football spike was never given.
 
"I scored the first goal at the end and was the first to spike the ball as well," added Hooker.
 
Joining Hockenson and Hooker on the ice for the playful game was junior quarterback Nate Stanley.
 
"Despite the controversial ending, tonight was a fun event," Stanley said. "The bowl does an outstanding job letting us participate in activities like this."
 
The trio of Hawkeyes was joined by approximately 100 teammates Thursday evening to watch the National Hockey League's Eastern Conference leader Tampa Bay Lightning face off against the Philadelphia Flyers.
 
Hockenson echoed Stanley's comments praising the Outback Bowl for giving the players enjoyable opportunities.
 
"Being able to do stuff like this is a lot of fun," said Hockenson. "Most of us have never been to an NHL game, so being able to take a break from our bowl preparation to experience something like this is what makes bowl trips special."
 
The Hawkeyes resume preparation for next week's Outback Bowl versus Mississippi State in a Friday morning practice at the University of Tampa.  
Iowa (8-4) and No. 18 Mississippi State (8-4) meet Jan.1 in the 33rd annual Outback Bowl inside Raymond James Stadium. Kickoff is 11 a.m. (CT). The game is televised on ESPN2.
To view an Outback Bowl Central page, click HERE.