Outback coverage: Offense | Outback coverage: Austin Schulte | Outback coverage; Touch Down in Tampa | Outback coverage: Amani Hooker | Photo Gallery – Practice No. 3 | Hospital Visit Gallery | Outback coverage: Defense | Outback coverage: Brandon Smith | Outback coverage: Team Night at Lightning | Outback coverage: Ryan Schmidt | Outback coverage: Outback Memories | Outback coverage: Nick Easley | Outback coverage: Nate Wieting | Outback coverage: Hauling the Hawkeyes to Tampa | Outback coverage: Miguel Recinos | Outback coverage: Nate Stanley | Outback Bowl Central | Outback Bowl News Conference Transcript (PDF) | News Conference Photo Gallery
By JAMES ALLAN
hawkeyesports.com
TAMPA, Fla. — University of Iowa head coach Kirk Ferentz said the Hawkeyes' preparation is progressing 56 hours out from Tuesday's 2019 Outback Bowl matchup against No. 18 Mississippi State.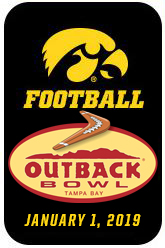 "It is going fairly smoothly and we're about where we want to be," Ferentz said during a Saturday news conference alongside Mississippi State head coach Joe Moorhead at the Holiday Inn Westside.  "Hopefully we can finish out the week and be ready to go at kickoff."
 
The 33rd installment of the Outback Bowl will kickoff at 11 a.m. (CT) on Jan. 1 inside Raymond James Stadium. The bowl game has become an annual treat for the region.
 
"It is a Tampa Bay treasure and we're proud of what the bowl game means to the region, community, and to college football and the universities," said Mike Schulze, the bowl's director of communications and sponsorships.
 
Ferentz agreed.  He applauded the Outback Bowl and its representatives for the outstanding hospitality.  The Hawkeyes are making their record sixth appearance in Tampa.
 
"I can tell you from experience, this is a great bowl game on every level," said Ferentz. "The biggest thing is you know you're going to play a tough, aggressive football team on game day. That's certainly the case again this year."
 
Moorhead, who has guided the Bulldogs to an 8-4 record in his first season in Starkville, has an offensive scheme similar to that of Penn State in 2016 and 2017. Moorhead was the Nittany Lions' offensive coordinator both seasons.
 
"There is a significant amount of carryover," said Moorhead. "A lot of things are based on your personnel. The base foundation and structure of it was the same and I'd say there is relative familiarity, having gone against Iowa in 2016 and 2017 on the offensive side of the ball. 
 
"But like anything, coaches tweak, change, and make adjustments and with (Iowa's) great staff, we're expecting a challenge like we saw the last two years we played them."
 
Iowa lost 41-14 in Happy Valley in 2016 when the Nittany Lions put up 599 yards of total offense.  A year later, Penn State eked out a 21-19 victory in Kinnick Stadium with a last-second, game-winning touchdown.
 
"We didn't play defense in 2016, but we made a better showing the next time out," said Ferentz. "We competed better.  There are similarities and differences, too, and the biggest similarity is the quarterback was the catalyst."
 
It was Trace McSorely for Penn State.  It is Nick Fitzgerald for the Bulldogs.
 
Fitzgerald is Mississippi State's leading rusher with 1,018 yards and 12 touchdowns on 201 attempts — 96 more than running back Kylin Hill.  Through the air, Fitzgerald has completed 131-of-249 attempts for 1,615 yards with 15 touchdowns.
 
"When you look at Mississippi State and the amount of carries he has had relative to anybody in the conference, not just quarterbacks, he is where everything starts with their offensive football team," said Ferentz. "I felt the same way about Penn State.
 
"They look different, but both are leaders and winners.  To me that is where it all starts and if you don't have an answer, or somewhat of an answer, you're going to be in trouble."
 
For all the talk about Mississippi State's top-ranked defense — a unit that surrenders 12 points and just 268.4 yards per game — Moorhead says from a production standpoint, the Hawkeyes' defense is on par.
 
"Giving up 17 points and just over 100 yards rushing, and 300 total yards, Iowa's defensive production stacks up with anybody in the country," said Moorhead.
 
To Hawkeye fan delight, Ferentz dispelled any social media clatter concerning sophomore offensive tackle Tristan Wirfs, who was the subject of media attention when he was taking reps with the second team during Friday's practice.
 
"You guys caused a firestorm," joked Ferentz. "We rotate guys in practice all the time so poor Tristan got a call from his mom two hours after practice and she's worried (Tristan) is sick, hurt, or whatever. 
 
"We rotate guys around, that's really common. We weren't playing games.  Maybe (offensive line coach) Tim (Polasek) was, but it wasn't under my direction, that's for sure."
 
Following Saturday morning's practice, players took in Busch Gardens during the afternoon.  Sunday calls for Beach Day with the Hawkeyes traveling to Clearwater Beach.
To view an Outback Bowl Central page, click HERE.