Outback coverage: Offense | VIDEO — Busch Gardens | Outback coverage: Defense | Outback coverage: Brandon Smith | Outback coverage: Team Night at Lightning | Outback coverage: Austin Schulte | Outback coverage; Touch Down in Tampa | Outback coverage: Ryan Schmidt | Outback coverage: Amani Hooker | Outback coverage: Outback Memories | Photo Gallery | Outback coverage: Coaches News Conference | Outback coverage: Special Teams | Outback coverage: Nick Easley | Outback coverage: Nate Wieting | Outback coverage: Hauling the Hawkeyes to Tampa | Outback coverage: Miguel Recinos | Outback coverage: Nate Stanley | Outback Bowl Central
By DARREN MILLER
hawkeyesports.com
TAMPA, Fla. — Devonte Young is afraid of heights, but there he was Saturday, strapped into the Falcon's Fury ride at Busch Gardens Tampa Bay where he "enjoyed" a 335-foot freefall at 60 miles per hour.
 
Chauncey Golston isn't a big animal guy, but there he was Saturday, handing a chunk of romaine lettuce to a 15-foot giraffe on the Serengeti Safari.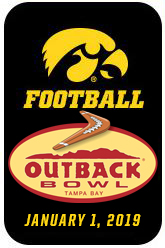 "I'm conquering my fear," said Young, when his heart rate declined a few minutes after his feet returned to the ground.
 
"I have to get out of my comfort zone," Golston said. "They are very beautiful animals."
 
Young, a junior defensive back, and Golston, a sophomore defensive lineman, were joined at Busch Gardens by teammates and staff, as well as student-athletes from Mississippi State, their opponent in Tuesday's Outback Bowl. Players from both teams fed giraffes and rode Falcon's Fury before being turned loose to wander the theme park at their leisure.
 
The Hawkeyes were the first to visit the giraffes. The group was quickly greeted by Teesa, Cupid and two babies, Angel and Patty.
 
"Animals and bugs aren't my forte, but I was surprised at how gentle the giraffes were," Golston said. "I have been to the zoo, but everything is like behind glass there. This is totally different. You can't match that feeling."
 
Golston was asked if he would feed a giraffe again.
 
"Yeah," he said. "But not too soon."
 
Sophomore wide receiver Ihmir Smith-Marsette is an animal person who grew up raising 12 dogs.
 
"It's different; you can feed dogs or cats, but feeding a giraffe is one of a kind," Smith-Marsette said. "They all liked me: Patty, Cupid, and the rest of them."
 
Sophomore wide receiver Brandon Smith had no reservations about feeding a giraffe. Why would he? He is the owner of a ball python named Rufus.
 
"That was one of my top 10 experiences, having a giraffe that close to you and being able to feed it out of your hands," Smith said. "It made me want to get a giraffe. I would buy a giraffe if I could."
 
The 77-inch maximum height to ride Falcon's Fury disqualified Hawkeyes like sophomore defensive end A.J. Epenesa. Running backs coach Derrick Foster took his place.
 
Like a falcon, Busch Gardens promotional materials explain, riders pivot 90 degrees in midair to a face-down dive position at 300 feet in the air. An instant later, they will plunge 60 miles per hour straight down. It's an immediate, heart-pounding thrill inspired by skydiving.
 
"I told Mark (Kallenberger), listen, if something happens to me on this ride, remind the backs at home to hold the ball, ball security," Foster said.
 
Young promised himself he wouldn't scream during the free fall.
 
"I think I was screaming the whole time down," Young said. "I would do it again, but it would probably be the same result."
Iowa (8-4) and No. 18 Mississippi State (8-4) meet Jan. 1 in the 33rd annual Outback Bowl inside Raymond James Stadium. Kickoff is at 11 a.m. (CT). The game is televised on ESPN2.
To view an Outback Bowl Central page, click HERE.