Outback coverage: Busch Gardens | Outback coverage: Coaches News Conference | Outback coverage: Special Teams | Outback coverage: Defense | Outback coverage: Brandon Smith | Outback coverage: Team Night at Lightning | Outback coverage: Offense | Outback coverage: Austin Schulte | Outback coverage; Touch Down in Tampa | Outback coverage: Ryan Schmidt | Outback coverage: Amani Hooker | Outback coverage: Nick Easley | Photo Gallery | VIDEO — Beach Day | Outback coverage: Nate Stanley | Outback Bowl Central | Outback coverage: Nate Wieting | Outback coverage: Outback Memories | Outback coverage: Hauling the Hawkeyes to Tampa | Outback coverage: Miguel Recinos
By DARREN MILLER
hawkeyesports.com
CLEARWATER, Fla. — University of Iowa wide receivers Brandon Smith and Ihmir Smith-Marsette hadn't set foot on the sands of Clearwater Beach and they were already signing footballs for Joe Oglesby and his 12-year-old grandson, Jorgie.
 
This is the sixth consecutive season that Joe has taken his grandson to a New Year's Day football bowl game and the festivities that precede it. Now living in Orlando, but originally from Dubuque, Iowa, Joe will attend his third Outback Bowl involving the Hawkeyes when Iowa plays Mississippi State on Tuesday in Tampa's Raymond James Stadium beginning at 11 a.m. (CT).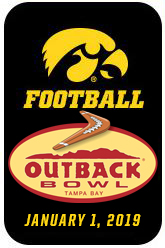 "The Outback Bowl always puts on a great event, whether it's Beach Day, Splitsville for bowling, or appreciation day when they visit children in the hospital," Joe said. "It's just awesome. Jorgie had his photo on the Outback Bowl website (in 2016) getting an autograph from C.J. Beathard."
 
Another Hawkeye fan, Kim Hovey from Hiawatha, Iowa, is enjoying her first bowl experience after attending 11 of Iowa's 12 games this season.
 
"We know Iowa has good fans and a commitment to our team," Hovey said. "This is a beautiful place and the friendliness of the people here has been unbelievable."
 
Hovey left Eastern Iowa on Christmas Day and arrived in Florida two days later. She is non-committal on a return date.
 
"That's debatable," she said. "It depends how long after the win we're going to party before we head back north."
 
Deb Burger, originally from Waterloo, Iowa, who now calls Lake Delhi home, is attending her fourth Outback Bowl. Her cabana on Clearwater Beach was decorated with two gold Tigerhawk car window flags.
 
"We have run into a lot of friends," Burger said. "The sunshine, the beach, and this is an awesome day for Iowa people to come together and cheer on their team."
 
Jean Jenkins has been supporting the Hawkeyes from a perspective a bit different than a typical fan. Her son, Jeff, is a 6-foot-4, 270-pound offensive lineman from Crystal Lake, Illinois.
 
"It has been quite an experience," Jean said, moments after posing for a photograph with sophomore offensive lineman Tristan Wirfs. "We didn't know what to expect. The Iowa fan base is just awesome, we love being here supporting the team, supporting our son, and it's quite an outing."
 
From a Hawkeye perspective, one of the most anticipated moments of Beach Day was a 15-minute visit from head football coach Kirk Ferentz.
 
"On behalf of everybody in our program, we appreciate you guys being here and hopefully we'll put on a good game for you Tuesday," Ferentz said. "I appreciate you being here supporting the team. I hope you have a great time and don't break curfew."
 
Before coach Ferentz could return to Tampa to put the finishing touches on his game plan, George Cretekos, mayor of Clearwater, made a brief presentation. Cretekos referenced that this is Iowa's sixth trip to the Outback Bowl since the 2003 season.
 
"Coach, we know you have been here many times," Cretekos said. "This is your second home, so we're going to give you a key to the city. But, we have changed the locks."
 
"I was wondering about that," Ferentz replied.
 
Then Cretekos echoed the thoughts of all Iowa fans in attendance.
 
"But we would trust you with our hearts," he said. "Go Hawkeyes."
Iowa (8-4) and No. 18 Mississippi State (8-4) meet Jan. 1 in the 33rd annual Outback Bowl inside Raymond James Stadium. Kickoff is at 11 a.m. (CT). The game is televised on ESPN2.
To view an Outback Bowl Central page, click HERE.