Outback coverage: Busch Gardens | Outback coverage: Coaches News Conference | Outback coverage: Special Teams | Outback coverage: Defense | Outback coverage: Brandon Smith | Outback coverage: Team Night at Lightning | Outback coverage: Offense | Outback coverage: Austin Schulte | Outback coverage; Touch Down in Tampa | Outback coverage: Ryan Schmidt | Outback coverage: Amani Hooker | Outback coverage: Nick Easley | Outback coverage: Nate Wieting | Outback coverage: Outback Memories | Outback coverage: Hauling the Hawkeyes to Tampa | Outback coverage: Miguel Recinos | Outback coverage: Nate Stanley | Outback Bowl Central | Outback coverage: Game Recap | Outback coverage: News and Notes | Outback coverage: Iowa Shoots for Elite Company | Outback coverage: Beach Day
By DARREN MILLER
hawkeyesports.com
TAMPA, Fla. — It was about this date in 2016, just a few days before the University of Iowa football team played Florida in the Outback Bowl.
 
Iowa head coach Kirk Ferentz was sitting in room 1232 of Tampa's Westin Harbour Island hotel. Nick Easley was celebrating Christmas at his grandmother's house in Iowa City, Iowa.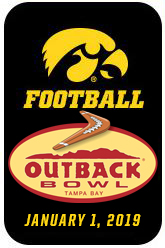 At the time, Ferentz was hunting for future wide receiver depth. Easley was looking for a two-year home. Their phone conversation was productive.
 
"The first time I talked to Nick I was in the same room I slept in the last six nights," Ferentz said Tuesday. "I had never met Nick, didn't know much about him. I asked if he was interested in being a Hawkeye. Sometimes dumb luck is a good thing in recruiting."
 
It's interesting how things work out in life and in sports. Ferentz opened the door and gave Easley every opportunity to prove himself inside the Richard O. Jacobson Football Operations Building. On Tuesday, Easley, a native Iowan turned junior college star turned Hawkeye walk-on, was named most valuable player of the 33rd Annual Outback Bowl.
 
In a game featuring dominate defenses from Iowa and Mississippi State, the 5-foot-11, 205-pound senior wide receiver from Newton, Iowa, was an offensive star. Easley caught eight passes for 104 yards and two touchdowns — his 100th career reception as a Hawkeye gave Iowa an insurmountable 24-19 lead in the third quarter.
 
The Hawkeyes went on to knock off No. 18 Mississippi State, 27-22, in front of 40,518 in Raymond James Stadium. It is their second consecutive bowl victory.
 
"Being part of this program and being an Iowa Hawkeye is the best decision I ever made," said Easley, who as a sophomore at Iowa Western in 2016 led the National Junior College Athletic Association with 72 receptions. "I am so proud of this team, so proud I got to be part of this team and this program under coach Ferentz. It has been an unbelievable ride and I have loved every minute of it."
 
There were 60 more minutes to love of his collegiate playing career on New Year's Day in Tampa. The afternoon started quietly, with Easley making his first reception (for two yards) on Iowa's seventh play of the game.
 
By halftime, he had three receptions for 84 yards and a 75-yard touchdown — the longest touchdown reception in Iowa's bowl history. It put the Hawkeyes ahead, 10-6. Until that score, Iowa had run 15 plays for nine yards.
 
"There are a couple different places where the ball could go," Easley said of his first touchdown reception. "But with the play-action and how aggressive (Mississippi State's) defense is, they bit on the play fake a little bit. Luckily (quarterback) Nate (Stanley) was able to find me; it was a good job by him seeing me down the seam and he put a good ball on me."
 
As time was running out on the third quarter, Stanley found Easley again. The result once again put Iowa ahead and once again Easley deflected praise to teammates.
 
"That is the play that sticks out to me," Easley said. "If you look at that play and look at the guys blocking for me — Kyle Groeneweg I think put his guy on the ground, that is an undersized guy (5-10, 186) going against a backer. Kyle did a great job there and then Brandon Smith holding that guy off in the end zone, allowing me to get the edge and get in there. The credit goes to them."
 
Easley entered the Outback Bowl with 95 career receptions at Iowa — 51 for 530 yards and four touchdowns as a junior, and 44 for 390 yards and three touchdowns as a senior. After the MVP performance, his 103 receptions place him 21st in school history.
 
Prior to the Outback Bowl, because of the premature defection of first-team All-Big Ten tight end Noah Fant to the NFL, Ferentz hinted that Iowa's offense would rely more on three-receiver sets. The trio of Easley, Ihmir Smith-Marsette, and Smith combined for 15 receptions, 166 yards, and three touchdowns against Mississippi State.
 
One of the most relentless and resilient Hawkeyes was Easley. He was a key component in Iowa playing team and opportunist football.
 
"It's how we're built. We have guys who were highly recruited and we have other guys who worked their way and have proven they deserve to play at this level," Ferentz said. "It's all about getting an opportunity. The work is done by the players and Nick is a great illustration of that." 
 
It all started with a brief phone call two years ago. It's interesting how things work out in life and in sports.