Hawkeye Fan Shop — A Black & Gold Store | Hawk Talk Monthly — January | 24 Hawkeyes to Watch
By JAMES ALLAN
hawkeyesports.com
 
IOWA CITY, Iowa — A month after opening Big Ten Conference play, the 20th-ranked University of Iowa men's basketball team is ready to resume league action Thursday night at Purdue.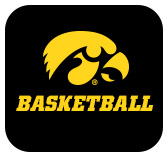 The Hawkeyes are 11-2 heading into a 6:01 p.m. (CT) tipoff in Mackey Arena — their first game of 2019.  Iowa won all 11-nonconference games for the first time since the 1986-87 season.
 
The two losses?  Both came in early season Big Ten play — at home against No. 22 Wisconsin on Nov. 30 and at No. 10 Michigan State on Dec. 3.
 
"We know our situation," said Iowa head coach Fran McCaffery. "It's a critical game as we move back into Big Ten play, but if we didn't win our last game that would be problematic as well.
 
"We always talk about the next game is the most important game; there is urgency for that game.  I don't know if there is more urgency (for Purdue) — it's a big game, it's a league game, it's an important game.
 
"If we want to win a Big Ten championship, you have to win Big Ten games."
 
Purdue is 8-5 overall with losses against Virginia Tech, Florida State, Michigan, Texas, and Notre Dame, but the Boilermakers are 6-0 inside Mackey Arena, boasting a 19.8 average margin of victory. 
 
Two Purdue players average double figures, including Carsen Edwards, who leads the Big Ten with a 25.8 scoring average.
 
"They are a different team than last year or the year before," said McCaffery. "They have new players in different roles, but they clearly have one of the best players in the country, a guy that can go for 40 in Carsen Edwards.
 
"He's a handful and they do a good job of running various actions for him whether he has the ball or is off the ball.  That's what makes him hard to guard.  He can create a shot anytime he wants for himself and those guys have your attention."
 
The Hawkeyes counter with junior Tyler Cook, who McCaffery says is playing the best basketball of his career.  Over the last five games, Cook is averaging 19.2 points, 9.2 rebounds, and four assists, while shooting 68.6 percent from the floor.
 
"A lot of guys talk about being great, but he wants to be great," said McCaffery. "He puts in the time."
 
During pregame warmups Thursday, the Hawkeyes will wear shooting shirts that read #TylerStrong to honor Purdue student Tyler Trent.  The Boilermaker super fan passed away on Jan. 1 following a lengthy battle with bone cancer.
 
"The players wanted to do it, and I am proud of that," said McCaffery.
 
Trent was visible throughout his fight, appearing at Purdue sporting events across the country. He was presented the Disney Spirit Award for his positivity and inspiration at the Home Depot College Football Awards on Dec. 7 in Atlanta. 
 
Thursday's game will be Purdue's first game since his death.
 
"When you look at Tyler and the way he handled himself through a difficult ordeal, the way his family handled it, and the way Purdue handled it, it was so inspiring to others going through the same thing," said McCaffery.
 
"To think about the difficulty and pain he was going through to be so incredibly positive all the time and always having a smile on his face is something we wanted to honor."
 
Thursday's game will be televised nationally on BTN with Dave Revsine and Stephen Bardo on the call.