Request for 2019 Football Tickets
IOWA CITY, Iowa — The University of Iowa Athletics Department announced Friday that a football season ticket campaign will begin Monday, Jan. 14, and season ticket prices for the 2019 season will remain the same as 2018.  General public season tickets for seven home games will be $415, with faculty/staff season tickets remaining at $345. University of Iowa student season tickets are $150 and include all seven home games.
 
Season ticket holders earn ticketing priority over the public for single game, special events, and postseason events, in addition to saving nearly $75 over the cost of single-game prices.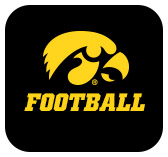 This season, renewal information and the renewal process will be delivered through a personalized microsite providing each ticket holder with a custom experience. Season ticket holders should make sure their current, valid email address is on file with the Athletics Ticket Office by logging into their account.
 
All renewal and new season ticket holders will be provided an opportunity to upgrade and/or select their seating locations based on availability and will receive selection dates and times in early April. This process, which concludes in May, is based on priority point totals and I-Club Fund annual contribution membership levels.
 
Your contribution of $50 or more to the I-Club Fund, which fulfills regular and postseason seating and parking requirements, can be made at jointheiclub.com. I-Club Fund contributions made by March 29 will be included in priority points for the 2019 season ticket selections and upgrade process. Contributions to the I-Club Fund, which provides scholarship support for Hawkeye student-athletes, must be made by May 31 to ensure proper mailing of season tickets and parking passes. I-Club renewal forms will be emailed in mid-February.
 
New for 2019, season ticket holders with Apple mobile devices can download their tickets directly into Apple Wallet, just as an airline or concert ticket.  This option would replace traditional paper tickets, and these seats could be shared electronically.  Android device users have the option for mobile PDF tickets. The option for mobile delivery will be available in the renewal process.
 
"We are appreciative for the continued support of our season ticket holders and excited to keep the season ticket price the same as last year," said Gary Barta, Henry B. and Patricia B. Tippie Director of Athletics Chair. "The atmosphere inside and outside Kinnick Stadium is the best in the country, and we will continue to work hard to provide a wonderful fan experience."
 
Iowa football has posted back-to-back bowl wins, including a 27-22 Outback Bowl win over No. 18 Mississippi State on Jan. 1. The Hawkeyes have posted a 37-16 record over the past four seasons. Kirk Ferentz completed 20 seasons as Iowa's head coach and is now the winningest head coach in program history (152 wins) and ranks fifth all-time in the Big Ten Conference.
 
Additional ticket options, including the Fight for Iowa Mobile Pass, mini-plans, group, and single-game tickets will be available at a later date. Fans may call 1-800-IA-HAWKS or email tickets@hawkeyesports.com for more information. Fans interested in premium seating, including the newly completed Kinnick Edge North End zone, may email premium@hawkeyesports.com for more information.
 
2019 Iowa Hawkeye Football Schedule
Start times and television information for the 2019 football schedule are not yet available.
 
Aug. 31            Miami, Ohio
Sept. 7             Rutgers
Sept. 14           at Iowa State (Iowa Corn Cy-Hawk Series)
Sept. 28           Middle Tennessee State (Family Weekend)
Oct. 5               at Michigan
Oct. 12             Penn State
Oct. 19             Purdue (Homecoming)
Oct. 26             at Northwestern
Nov. 9              at Wisconsin
Nov. 16            Minnesota
Nov. 23            Illinois (Senior Day)
Nov. 29            at Nebraska (Hy-Vee Heroes Game)