Hawkeye Fan Shop — A Black & Gold Store | Hawk Talk Monthly — January | Fight For Iowa
DALLAS, Texas — The University of Iowa women's tennis team picked up wins in singles and doubles on Saturday at Metroplex Mania in Dallas, Texas.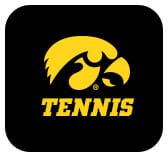 Danielle Burich won her singles match in straight sets versus BYU's Katie Fitt, 6-3, 6-4. Burich now has five singles wins the tournament season.
 
In doubles action, Burich teamed with Danielle Bauers to defeat Katie Fitt and Morgan Hall of BYU, 6-1.
The Hawkeyes dropped three singles matches. Elise van Heuvelen Treadwell battled, but ultimately dropped her singles match in three sets to Vivienne Kulicke, 3-6, 6-2, 6-0. Danielle Bauers faced a similarly tough singles match, and fell short against Avery Aude, 6-4, 6-4. Cloe Ruette was defeated by Nicole Petchey in straight sets, 6-1, 7-6. Each Hawkeye fell to a Southern Methodist University opponent.
 In other doubles action, Van Heuvelen Treadwell and Ruette fell to BYU's Anastasia Abramian and Kate Cusick, 6-4.
 
"Even though a couple matches didn't get go our way today, I thought we did a good job of competing and trying to swing the momentum in our favor. Hopefully we can come out tomorrow and execute a little better on big points so we can feel good heading into our season opener on Friday," said Iowa assistant coach Daniel Leitner.
 
Iowa returns to the court tomorrow. Action is tentatively scheduled for 9:30 a.m. (CT). 
 
DAY 2 RESULTS:
Singles:
Flight One: Vivienne Kulicke (SMU) defeated Elise van Heuvelen Treadwell (Iowa): 3-6, 6-2, 6-0
Flight Two: Anzhelika Shapovalova (SMU) defeated Rhea Verma (NSU): 4-6, 6-1, 6-4
Flight Three: Ana Perez-Lopez (SMU) defeated Polanska (NSU): 6-2, 6-2
Flight Four: Karina Traxler (SMU) defeated Blattner (NSU): 6-3, 6-0
Flight Five: Katherine Jakeway (SMU) defeated Iwaniuk (NSU): 7-5, 6-3
Flight Six: Nicole Petchey (SMU) defeated Cloe Ruette (Iowa): 6-1, 7-6
Flight Seven: Avery Aude (SMU) defeated Danielle Bauers (Iowa): 6-4, 6-4
Flight Eight: Tiffany Hollebeck (SMU) defeated Morgan Hall (BYU): 6-2, 6-1
Flight Eight: Danielle Burich (Iowa) defeated Katie Fitt (BYU): 6-3, 6-4
 
Doubles:
Flight One: Kulicke/Perez-Lopez (SMU) defeated Tomasetti/Milalrd (NAU): 6-1
Flight One: Abramian/Cusick (BYU) defeated Van Heuvelen Treadwell/ Ruette (Iowa): 6-4
Flight Two: Buss/Shapovalova (SMU) defeated von Dungern/Hakansson (NAU): 6-1
Flight Three: Traxler/Hollebeck (SMU) defeated Granville/Moore (NAU): 6-1
Flight Four: Burich/Bauers (Iowa) defeated Hall/Fitt (BYU): 6-1