Hawk Talk Monthly — January | Hawkeye Fan Shop — A Black & Gold Store | 24 Hawkeyes to Watch
By JAMES ALLAN
hawkeyesports.com
IOWA CITY, Iowa — Nicole Chow's gymnastics story has come full circle at the University of Iowa.
 
Chow, an all-arounder from Port Coquitlam, British Columbia — a suburb of Vancouver — joined the Hawkeyes with a sparkling resume. She had National Team experience within the Canadian system, but when she arrived in Iowa City, she was on the mend.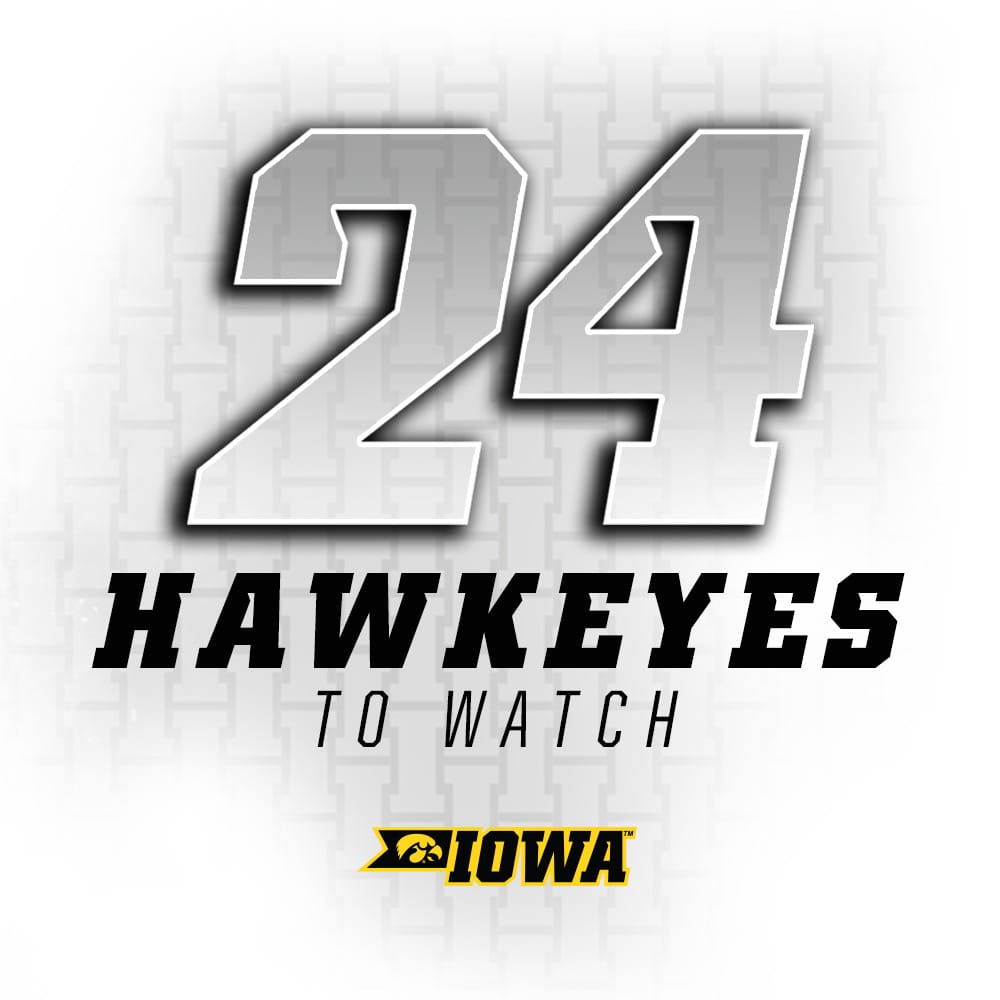 "She was injured and struggled," said Iowa head coach Larissa Libby. "When she made it back, she suffered another injury, but she found a way to have a massive impact on the program even when she was out of the lineup.  That's a hard thing to do."
 
When Chow was a child, her parents pushed her to participate in dance, but she wasn't interested.  Chow was an energetic child, and she found her calling when her parents stuck her in the gym.
 
"I instantly fell in love with the sport," said Chow. 
 
Her earliest childhood memories in gymnastics revolve around a birthday party at a local gym.
 
"They couldn't get me off the trampoline," she said.
 
Chow went on to become an accomplished gymnast, earning her way on to the Canadian National Team.  She placed fourth on vault and sixth on bars at the 2013 Canadian National Championships. From there, it was finding the right fit in collegiate gymnastics.
 
"I always knew I wanted to compete in college gymnastics," said Chow. "The Olympics aren't so much my destiny and I have always been into the show of (the sport). Watching college gymnastics is inspiring and an amazing way to do the sport that I love."
 
Chow sent recruiting videos and Libby was interested.  She contacted Chow's coaches and traveled to Canada to watch Chow train.  When they met in person, they connected, and when Chow learned more about the program and the University of Iowa, it was a perfect fit.
 
"I had no idea what Iowa was or where it was," said Chow. "I knew nothing about it. When I first came here, you get a feeling that it is like home.  The girls were incredible, the coaches, especially Larissa, were genuine and motherly. I loved that about her."
 
Recovering from an ACL injury, Chow competed in one dual as a freshman. She was in the lineup for 10 meets as a sophomore. Through the struggles, Chow stayed the course.
 
"It was about trusting the process," she said. "Listening to what the coaches are looking for and relying on the coaching staff and my teammates helped push me.  The motivation from all those factors helped me."
 
Libby says Chow's talent was always there. The difference was her mentality and the belief in herself.
 
"I am not sure she believed she was that good until the middle of her junior year and going into this year, partially because the team has so much faith in her," said Libby. "She never lets them down. She sends the message that she can get it done every time.
 
"When you watch her on the floor, you can't help but feel excited. She's an athlete that draws you in.  Her gymnastics are beautiful, her lines are incredible, and she has a lot of difficulty, but the maturity and growth has come from the belief in herself and what she's capable of doing."
 
Chow was in the Iowa lineup every meet during her breakout junior season, competing in the all-around nine times. She tallied three top-six finishes at the Big Ten Championships, placing fourth on vault and sixth on beam and in the all-around to earn second-team All-Big Ten honors. 
 
During the 2018 season, Chow posted career-bests across the board.
 
"The consistency and excitement came when she stopped doubting herself," said Libby. "She believed that as long as she practiced reasonably well, she would be able to up that level in competition and she did.
 
"She is that athlete that you want up in the worst of times.  She lets you know , 'Don't worry, it's not a problem, I have it.' With such a young team, it's important for them to see that."
 
Chow has matured and assumed a leadership position as a senior. Libby says Chow is a strong voice and a team role model because of the relationships she has built throughout the roster. 
 
"If you look at our team and ask, who's the leader? There isn't a question, it's "Chowwey" for multiple reasons," said Libby. "She is a leader because she has so many different facets of who she is and who she is to each individual person is completely different. That's why she is good at what she does, because she can reach multiple people in multiple ways."
 
As Chow closes her Hawkeye and gymnastics career, her goal is to enjoy the final ride.
 
"I want to have fun," she said. "It's my last year in gymnastics. I want to enjoy myself, not stress too much, and push the underclassmen to bring this program to another level."
 
Libby sees Chow's confidence. She says it is a night-and-day difference from where she was when she arrived in Iowa City to where she is as a senior.
 
"I am not sure if you would have asked her freshman year if she believed she would compete as one of the best in the Big Ten," said Libby. "Now she knows she can keep up with the best. 
 
"She has come full circle.  It will be devastating when she leaves the program, but I want her to be able to leave her mark the way she wants it left."
 
It is the final chapter of Chow's Hawkeye story.
 
"It's bittersweet (to close out my gymnastics career)," said Chow. "I think it's going to end in a great way, especially being a part of this program and what it's about.
 
The Hawkeyes host Minnesota on Saturday at 4 p.m. (CT) inside Carver-Hawkeye Arena.  It is Pink Night and camper reunion night.  Tickets are available on hawkeyesports.com/tickets.