Hawkeye Fan Shop — A Black & Gold Store | Hawk Talk Monthly — January | Fight For Iowa
IOWA CITY, Iowa — The University of Iowa women's tennis team picked up its second win of its 2019 season Sunday, defeating North Texas, 5-2, at the Hawkeye Tennis and Recreation Complex.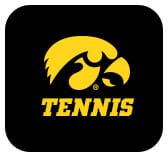 The Hawkeyes got the ball rolling by picking up the doubles point. Ashleigh Jacobs and Cloe Ruette were victorious in their No. 3 doubles match against Sasaki and Kutubidze, 6-1. The team of Elise van Heuvelen Treadwell and Adorabol Huckleby clinched the doubles point for the Hawkeyes in a thrilling win over Babic and Heczey of North Texas, 6-4. Samantha Mannix and Ashleigh Jacobs dropped their No. 1 doubles match to Kononova and Liang, 6-3.
 
Iowa's success continued into their singles play.
 
Sophie Clark started the morning off strong with a win over #102 Minying Liang, 6-0, 6-2, at the No. 4 position.
Ashleigh Jacobs came away with the win over Nidhi Surapaneni, 6-3, 6-3, at the No. 3 position.
At No. 6, Cloe Ruette clinched the match by defeating Sillie Tranberg in straight sets, 6-2, 6-2. 
Samantha Mannix beat Maria Kononova in a tightly contested, No. 1 singles, match, 7-5, 5-7 (8). Elise van Heuvelen Treadwell and Adorabol Huckleby each dropped their singles match.
 
 QUOTING SASHA SCHMID
"I am really pleased with the way we are competing. I think the tennis aspect will grow from week to week and we will continue to get better the more we play. From a foundation standpoint, for us to show a lot of competitiveness and grit are positives for us and will help us turn matches and be the difference makers."
 
UP NEXT
The Hawkeyes return to action on the road Saturday versus Dartmouth University. Match play is set to begin at 11 a.m. (CT)
 
 Iowa 5 , North Texas 2
Jan. 20, 2019 | 10 a.m. | Iowa City, Iowa | HTRC
Singles
1. Samantha Mannix def. Maria Kononova: 7-5, 5-7 (8)
2. #45 Tamuna Kutubidze def. Elise van Heuvelen Treadwell: 6-4, 6-7 (10)
3. Ashleigh Jacobs def. Nidhi Surapaneni: 6-3, 6-3
4. Sophie Clark def. #102 Minying Liang: 6-0, 6-2
5. Alexandra Heczev def. Adorabol Huckleby: 4-6, 6-0 (8)
6. Cloe Ruette def. Sillie Tranberg: 6-2, 6-2
 
Doubles
1. Kononova/Liang def. Mannix/Clark: 6-3
2. van Heuvelen Treadwell def. Huckleby / Babic/Heczey: 6-4
3. Jacobs/Ruette def. Sasaki/Kutubidze: 6-1
 
Match Notes:
Iowa: 2-0
North Texas: 0-2
 Order of finish: Doubles (3, 1, 2); Singles (4, 3, 6, 5, 1, 2)