Hawkeye Fan Shop — A Black & Gold Store | Hawk Talk Monthly — January | 24 Hawkeyes to Watch 2018-19 | I-Club Events Page | 2019 Football Tickets
By DARREN MILLER
hawkeyesports.com
IOWA CITY, Iowa — The more things change, the more they stay the same. Sounds like a description of the University of Iowa football program.
 
Head coach Kirk Ferentz has witnessed and evolved with changes in the college football landscape over the past two decades. What hasn't altered is his mission statement.
 
"One thing that hasn't changed are the program goals of graduation, guys doing a great job in football, and also being great citizens in the community here and when they go home," Ferentz said Jan. 17 at a news conference in the Stew and LeNore Hansen Football Performance Center. "Our guys have done a super job of that. That part is all good."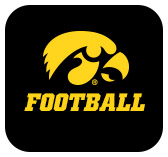 The Hawkeyes haven't been immune to a couple movements among college football student-athletes.
 
There is a national trend of players skipping bowl games as they prepare for the NFL Draft. For the first time, it happened to the Hawkeyes this season. Iowa responded by winning the Outback Bowl, 27-22, over Mississippi State. It marked the Hawkeyes' second consecutive bowl victory and eighth since 2001.
 
"(Football) is too hard and too demanding, so if you're not 100 percent committed to what it is you're doing in that moment, it's a bad deal," Ferentz said. "I'm appreciative of what they did while they were here."
 
Another trend is underclassmen leaving school with eligibility remaining in order to dip their toes into the professional water. Iowa lost two players after the 2017 season and responded with a nine-win season. The Hawkeyes lost four more after the 2018 season.
 
"The reality is, we are going to see more of that in the future," Ferentz said. "You have to have a mental plan for that and try to make sure you're working as hard as you can behind the scenes to get the next man ready, but we do that anyway. It's not like we're lax with a second-teamer if we have a sophomore in front of him, we're trying to push everybody to be the best they can be."
 
Although sending players to the NFL has never been a program goal, it is a source of pride for Ferentz. Since he began as head coach at Iowa, the Hawkeyes have had 66 draft picks and 104 sign free agent contracts. Three Hawkeyes were named All-Pro this season (Desmond King, George Kittle, Marshal Yanda) and eight are on rosters of the four teams in this weekend's NFL conference championships.
 
Eight Hawkeyes were involved in their respective conference championship games Jan. 20: Anthony Hitchens and Ben Niemann (Kansas City), Austin Blythe and Henry Krieger-Coble (Los Angeles Rams), and Adrian Clayborn, Cole Croston, James Ferentz, and Riley McCarron (New England). 
 
"Our guys have done a good job with their NFL opportunities," Ferentz said. "That part is always exciting and we're happy for the guys."
 
It's January and while a lot of talk outside the Hawkeye program is about what players won't be returning, Ferentz and his staff are in the early stages of uncovering gems that few people have yet to notice.
 
"The roster we discussed as a staff when we went through our personnel evaluation, those are the guys we have to coach and those are the guys we have to invest in. That has been the tradition of our program," Ferentz said. 
 
"We lost some really good players, but we also have some guys that are really good players right now and we also have some guys that I hope are Josh Jackson that a year from now we're saying, 'Boy, what a story that was.' When we have good teams, that's how it works. The real work will get done in this building and out on the field. That's what we can control."
 
The Hawkeyes open the 2019 season Aug. 31 against Miami (Ohio) and follow that with their Big Ten opener at home against Rutgers on Sept. 7.
 
Iowa will play seven home games, including Homecoming on Oct. 19 against Purdue and border battles in back-to-back weeks against Minnesota (Nov. 16) and Illinois (Nov. 23).
 
To request tickets for the 2019 season, click HERE.