Hawk Talk Monthly — January | Hawkeye Fan Shop — A Black & Gold Store | I-Club Events Page | 24 Hawkeyes to Watch 2018-19 | 2019 Football Tickets | VIDEO — George Kittle
By DARREN MILLER
hawkeyesports.com
IOWA CITY, Iowa — It's a good sign when your grass-stained jersey and gloves from the final regular-season game of the 2018 season are displayed at the Pro Football Hall of Fame in Canton, Ohio.
That's what happens when, over the course of 16 games, you catch 88 passes for 1,377 yards and five touchdowns. George Kittle did that during his second season with the San Francisco 49ers. His yardage total is the most ever in a season by an NFL tight end. His jersey and gloves are now in Canton.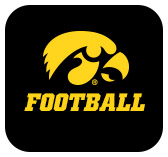 The 6-foot-4, 250-pound Kittle lettered for the University of Iowa from 2013-16, where in 49 games, he caught 48 passes for 737 yards and 10 touchdowns.
"I didn't really think of (setting a receiving record)," Kittle said. "I just go out there and play football because I love it. That is one thing that makes football pretty easy for me. If you love it and you enjoy it — when you're having a lot of fun — football is pretty easy. That is all I ever focused on."
On Dec. 30, during a 48-32 loss at the Los Angeles Rams, Kittle caught nine passes for 149 yards and a touchdown. That yardage total surpassed the previous season-best mark of 1,327 set in 2011 by New England's Rob Gronkowsi. (Travis Kelce of Kansas City held the record for a few moments Dec. 30, too. He finished the regular season with 1,336 receiving yards).
"That is a credit to my coaches — (49ers head) coach (Kyle) Shanahan giving me the opportunity and getting the ball and breaking the record," Kittle said. "I'm thankful for that."
Of Kittle's yardage, 881 came after contact, most in the NFL.
"That is one of my favorite accomplishments," Kittle said.
Kittle's impressive season was rewarded when he was named to the Pro Bowl roster and second-team All-Pro by The Associated Press. All this after just 31 professional games — he was selected by San Francisco in the fifth round (146th selection overall) in the 2017 NFL Draft.
"NFL teams know what they get when they draft or take on Iowa guys," Kittle said. "You are getting guys who have been in an NFL-style program; it is a complicated offense, it is a complicated defense. They are ready for things at the next level."
Kittle is one of five team captains for the 49ers, which has two other Hawkeyes on its roster. Quarterback C.J. Beathard threw for 1,252 yards and eight touchdowns during the 2018 season and cornerback Greg Mabin made 16 tackles with a forced fumble.
George Kittle was the very last player on the field signing autographs after the Pro Bowl Skills Challenge. Several fans (of other teams) walked away saying they're "buying a Kittle jersey" after he spent the last of his available time to interact with them.

He's a good dude.

— Keiana Martin (@KeianaMartinTV) January 23, 2019
For Kittle, there wasn't doubt that he would become a Hawkeye once Iowa head coach Kirk Ferentz offered a scholarship on signing day. His father, Bruce, played at Iowa from 1977-81 and George attended every home game in Kinnick Stadium from the ages of seven to 16.
"I didn't know what else to say because I was so excited," Kittle said of his signing day conversation with Ferentz. "(Iowa) is an NFL development place and coming out of high school, I was 6-2, 180 pounds, so I needed all the development I could get. (Iowa) was definitely the best place for me." 
The Pro Bowl will be held Sunday at Camping World Stadium in Orlando beginning at 2 p.m. (CT). Representing the NFC at tight end are Kittle and Austin Hooper of Atlanta. Representing the AFC at tight end are Eric Ebron of Indianapolis and Jared Cook of Oakland.
"One thing I love is being able to interact with other NFL tight ends," Kittle said. "I have said several times, every day is National Tight End Day. If a tight end goes off for 150 yards and two touchdowns, I'm excited. Usually I don't want them to do that against my team, but I'm pro-tight ends, so I try to interact with everyone."
 
Recently placed on display at the Hall: record-breaking artifacts from TEs @gkittle46 and @ZERTZ_86 from the 2018 season. Kittle set the new single season record for most receiving yards by a TE (1,377). Ertz set the new single season record for most receptions (113) by a TE. pic.twitter.com/Pch6rrMOt8

— Pro Football Hall of Fame (@ProFootballHOF) January 22, 2019
Kittle has fond memories of his time at Iowa, especially the bonds that he formed with his Hawkeye teammates.
"This locker room is a brotherhood," Kittle said. "You come in here and you know it is, 'Hey we have a job to do, we're going to work harder than they are, and we're going to get this win.' That is one thing I love about (Iowa's) locker room — it is a place of work and it is a place of great memories."