Hawkeye Fan Shop — A Black & Gold Store | Hawk Talk Monthly — January | 24 Hawkeyes to Watch 2018-19 | I-Club Events Page | 2019 Football Tickets
By DARREN MILLER
hawkeyesports.com
IOWA CITY, Iowa — It shouldn't come as a surprise that Austin Blythe will be starting for the Los Angeles Rams in Super Bowl LIII in Atlanta on Feb. 3.
 
Blythe's entire athletic career has been defined by success at the highest level, beginning at Williamsburg (Iowa) High School and then at the University of Iowa.
 
In high school, Blythe was a stalwart on the lines as Williamsburg won 27 football games from 2008-10 and advanced to three consecutive state playoffs. As a heavyweight wrestler, he was a four-time state finalist and three-time state champion.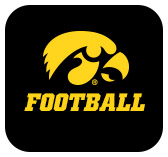 It was during high school that Blythe began a relationship with Iowa assistant football coach Reese Morgan. He committed to Iowa and started 51 career games; his final two collegiate starts came in the Big Ten Championship Game and the Rose Bowl.
 
Now he is playing on professional football's biggest stage.
 
"You learn from all those past experiences, what works as far as getting your mind right and having the focus you need to play at a high level," Blythe said. "It is no different now. I know it is another level in the NFL, but it is still the same approach to any kind of championship game and the days that lead up to it."
 
The 6-foot-3, 298-pound Blythe was selected by Indianapolis in the seventh round of the 2016 NFL Draft, the only University of Iowa player chosen that year. (As of 2018, Iowa has had at least one player drafted for 41 consecutive years, tied for the seventh-longest streak of any NCAA program.)
 
As a rookie, Blythe played eight games with the Colts (with one start) before being claimed off waivers by the Rams on May 16, 2017.
 
Blythe has been in 32 regular-season games with the Rams, starting 17 times. During the 2018 season, Blythe started all 16 games at right guard for a team that led the National Football Conference in points per game (32.9) and total offense (421.1 yards per game) and was second in rushing offense (139.4 yards per game) and third in passing offense (281.7 yards per game).
 
To get to the Super Bowl, the Rams defeated Dallas, 30-22, in the divisional playoffs and New Orleans, 26-23 in overtime, in the conference championship.
 
"This stuff doesn't happen every day, so you have to take it all in and realize what we have accomplished as a team," Blythe said. "Obviously we have to focus on the fact we have one more game to win."
 
As a four-year starter at Iowa from 2012-15, Blythe saw action in 52 games. He helped bolster an offensive line that allowed the Hawkeyes to start the 2015 campaign 12-0. Afterward, he was named team captain and third-team All-America by The Associated Press.
 
"The way (Iowa head) coach (Kirk) Ferentz carries himself and how he runs the Iowa program, who he has involved as coaches and how he asks them to carry themselves. All that trickles down to the players and it gets you ready for the NFL," Blythe said. "That's how the NFL is — you have to be on your game, you have to be a professional. You have to represent yourself well and you have to play well. That is expected at Iowa."
 
The biggest adjustment for Blythe as a professional was the lengthy time commitment. In college, it was class, down time, and football. In the NFL, it is football, football, and more football.
 
"It's pretty easy to adjust once you get in the swing of it," Blythe said.
 
In his first season with the Rams in 2017, Blythe played in 16 games with one start. The Rams won the NFC West with a record of 11-5, but lost on Wild Card Weekend to Atlanta, 26-13. The Rams repeated as NFC West champions this season with a record of 13-3.
 
The hours after winning the NFC Championship have been a whirlwind for Blythe, who already has his allotment of 15 Super Bowl tickets distributed, allowing his undivided attention to the New England Patriots. A Chiefs fan growing up, Blythe remembers throwing Super Bowl parties at his home in Williamsburg. Friends came over and predictions were made.
 
"I dreamed of one day playing in the Super Bowl, but it was just a dream," Blythe said. "Now that it is being realized, it is humbling and I feel blessed to be in the position I am."
 
He is also blessed with the continued support he receives from the Iowa football staff. Moments after the NFC Championship victory, Blythe received texts and calls from several Hawkeye coaches.
 
"I don't know if that happens everywhere," Blythe said. "Maybe it does, but I have a hard time believing it's anywhere close to what Iowa is like as far as post-graduation support. Getting text messages from those guys meant a lot and makes my decision to train (in Iowa City) in the offseason super easy."
 
Blythe, his wife Kiley, and 2 ½-year-old son Reed, live in Williamsburg in the offseason; during the season they rent a home in Thousand Oaks, California. Kiley and Reed made the trip to the Mercedes-Benz Superdome in New Orleans on Jan. 20 for the NFC Championship, where crowd noise reached more than 120 decibels.
 
That made Blythe cringe for two reasons.
 
First, the Rams offense couldn't hear quarterback Jared Goff call audibles or the snap count, so Blythe, a communications studies major at Iowa, was part of a silent cadence communication mechanism between the quarterback, center, and right guard. The system worked, as the Rams gained 378 yards and overcame a 13-0 first-quarter deficit.
 
The other issue with noise was the fact Reed refused to wear his hearing protection.
 
"Hopefully he is not going to be losing his hearing on account of us," Blythe said. "He is kind of a stubborn little guy. I would like to say he gets it from his mother, but I'm not so sure."
 
Blythe is joined on the Rams roster by another Hawkeye, tight end Henry Krieger-Coble, who is on the practice squad.
 
"It's great to see Henry every day and talk about the Hawkeyes," Blythe said.
 
In the Super Bowl, Blythe will face a familiar adversary in Patriots defensive end Adrian Clayborn. Clayborn, who lettered at Iowa from 2007-10, started for the Falcons last season when they defeated the Rams in the Wild Card game. In his first season in New England, Clayborn has 2 ½ sacks and a forced fumble.
 
Also members of the Patriots are Hawkeyes Cole Croston (practice squad), James Ferentz (active roster), and Riley McCarron (practice squad/injured).
 
"Having all those Hawkeyes on that team is kind of cool," Blythe said. "Just knowing the university is well represented speaks to coach Ferentz and the way he develops players. It doesn't take a rocket scientist to figure out the University of Iowa is great at doing just that."
The Hawkeyes open the 2019 season Aug. 31 against Miami (Ohio) and follow that with its Big Ten opener at home against Rutgers on Sept. 7.
 
Iowa will play seven home games, including Homecoming on Oct. 19 against Purdue and border battles in back-to-back weeks against Minnesota (Nov. 16) and Illinois (Nov. 23).
 
To request tickets for the 2019 season, click HERE