Hawkeye Fan Shop — A Black & Gold Store | 24 Hawkeyes to Watch | Hawk Talk Monthly — January | Fight For Iowa | B1G Championships Central | Iowa vs UNI&WIU Final Results
IOWA CITY, Iowa – The University of Iowa swimming and diving team dominated in its final regular season meet of the season, sweeping Western Illinois and Northern Iowa at the Campus Recreation and Wellness Center.
 
The Hawkeye men swept all 12 events to beat Western Illinois, 151-56, while the women posted two victories, downing Western Illinois (172-49) and Northern Iowa (137-86). 
 
The Iowa men finish the regular season with a 6-2 dual record, the women are 6-6.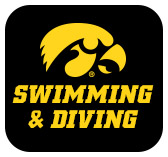 FULL SWEEPS
The Hawkeye women started the meet with a 1-2 punch in the 200-medley relay followed by a top four sweep by the men.
 
Junior Allyssa Fluit (1:49.85) and freshman Lauren McDougall (1:50.11) took first and second in the women's 200 free to continue Iowa's surge.
 
Sophomore Thomas Pederson (1:38.00), freshman Aleksey Tarasenko (1:39.89), freshman Jackson Allmon (1:40.87), and senior Ben Colin (1:43.46) took the top four spots in the men's 200 free. Pederson's time was a career best.
 
The sprints showed their dominance with a top-four sweep in the 50 free by junior Steve Fiolic (20.49), junior Sam Dumford (20.82), senior Matt Kamin (20.92), and junior Michael Tenney (21.01).
 
The women swept the 100 fly with top three finishes from sophomores Kelsey Drake (54.88) and Sarah Schemmel (56.95), and Morgan Grout (58.58).
 
The men followed with a top-four sweep in the 100 fly from sophomore Jackson Kuhlers (49.37) and freshman Matjaz Rozman (49.65), Dumford (49.89), and Tarasenko (50.05). Kuhlers, Dumford, and Tarasenko recorded season-bests.
 
The final sweep came in the 100 free from junior Will Scott (44.75), freshman Mateusz Arndt (45.60), Kamin (45.80), and senior Kenneth Mende (46.14).
 
DIVING TAKES ALL
Iowa dominated the 3-meter springboards with sophomore Jayah Mathews (380.20), freshman Sam Tamborski (355.05), and senior Jacintha Thomas (310.20) placing 1-2-3. All three scores were career bests. Mathews also won the 1-meter springboard with a score of 324.70.
 
Senior Will Brenner dominated on the boards for the men with two first-place finishes, winning the 1-meter with a score of 349.35 and 3-meter with a 394.30. Brenner's score off the 3-meter was a career best.
 
DISTANCE PULLS AWAY
Fluit (4:59.47) and junior Hannah Burvill (5:06.63) combined for a 1-2 punch in the women's 500 free. Pederson (4:33.03) and sophomore Tom Schab (4:39.90) also completed a 1-2 sweep in the 500 free.
 
PODIUM FINISHES
Burvill (23.68), McDougall (24.00), junior Samantha Sauer (24.13), and Schemmel (24.19) all finished within the top five in the 50 free.
 
Fluit (50.66) and McDougall (51.67) were first and third in the women's 100 free, while freshman Anze Fers Erzen took the crown in the men's 100 back with a time of 50.58. Freshman Caleb Babb swam to a first place finish in the 100 breast with a time of 55.68.
 
In the final event of the day, Iowa's 200-free relay both finished with wins with the men touching in 1.20.59 and the women in 1:35.08.  
 
UP NEXT
The Hawkeye women open championship season Feb. 20 at the Big Ten Championships in Bloomington, Indiana.  The Iowa men will host the Big Ten Championships from Feb. 27-March 2.