Hawkeye Fan Shop — A Black & Gold Store | Fight For Iowa | Iowa State.DePaul.Game Notes
THIS WEEK FOR THE HAWKEYES
The University of Iowa women's tennis team returns home to the Hawkeye Tennis and Recreation Complex this weekend, hosting Iowa State on Friday and DePaul on Saturday. Admission is free
QUOTING SASHA SCHMID
"We have learned a lot from the first four matches and have had a great stretch of practices since our Brown match. I have talked to the team about continuing to improve and build momentum from practice to practice and I've been pleased with our progress. We are looking forward to another great set of matches, and competing hard in every match we play.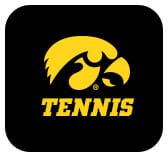 HAWKEYES OFF TO HOT START
Iowa is off to a 4-0 start after defeating Dartmouth and Brown last weekend in Hanover, New Hampshire, 6-1. This is the fourth time in five seasons the Hawkeyes have opened the season with four straight wins.
TAKING ON THE CYCLONES
Friday's match will be the 38th meeting all-time between the Hawkeyes and Cyclones. Iowa has never dropped a match to the Cyclones, leading the all-time series 37-0. The previous match between the two programs was last season, when the Hawkeyes defeated Iowa State, 5-2.
TAKING ON THE BLUE DEMONS
Saturday's match will be the 17th meeting between the Hawkeyes and the Blue Demons. Iowa leads the all-time series, 11-5. The previous match between the two programs was 2016, when the Blue Demons defeated the Hawkeyes, 5-2. The Hawkeyes' last win against DePaul came in 2011-12 season, 5-2.
NOTABLE STARTS
Freshman Samantha Mannix is ranked No. 125 in the latest ITA Division 1 singles rankings. Mannix is 3-1, at the No. 1 singles position. Freshman Sophie Clark and sophomore transfer Ashleigh Jacobs have each opened their Hawkeye singles careers with 4-0 records. Clark's most notable win came over No. 102 Minyiang Liang, at the No. 4 position. Jacobs has been dominant in singles play, dropping just one set at the No. 3 position.
IOWA CORN CY-HAWK SERIES
The Cy-Hawk Series is in its 15th season in 2018-19, and is sponsored for the eighth time by Iowa Corn. The Hawkeyes lead the season series, 13-6, having secured wins in football, volleyball, wrestling, women's basketball, men's basketball, and swimming and diving. Iowa State earned wins in soccer, and men's and women's cross country. Iowa State leads the all-time Cy-Hawk series, 7-6-1. The Cyclones won last year's series, 14-13.
FOLLOW THE HAWKEYES
Fans can follow the Iowa women's tennis team at facebook.com and via twitter @Iowa_Tennis. Live results from this weekend are available on the Iowa women's tennis schedule page at hawkeyesports.com. Links to live results and a live stream will be available on the women's tennis schedule at hawkeyesports.com.