Hawkeye Fan Shop — A Black & Gold Store | Fight For Iowa | Photo Gallery
Milwaukee, Wis. — The University of Iowa women's tennis team picked up its seventh win of the season Sunday, defeating Marquette, 4-3, in Milwaukee, Wisconsin.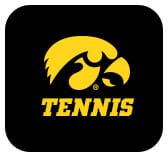 The Hawkeyes started the match strong by picking up the crucial doubles point. Samantha Mannix and Cloe Ruette picked up a win, 6-2, in their No. 2 doubles match. Elise van Heuvelen Treadwell and Adorabol Huckleby followed suit and clinched the doubles point with their No. 1 doubles victory over Marquette's Popovic and Eggink, 6-4. Ashleigh Jacobs and Michelle Bacalla dropped their No. 3 doubles match, 6-2.
In singles action, van Heuvelen Treadwell picked up a straight-set win, bouncing Natalija Popovic, 6-4, 6-3.
Michelle Bacalla grabbed her second singles victory of the season, at the No. 4 position, this one over Alexandria Chinikova, 6-4, 6-4.
Freshman Cloe Ruette clinched the win for the Hawkeyes in the final singles match of the day. In a three-set thriller, Ruette came back to beat Lesley Foe, 2-6, 6-4, 7-6, at the No. 6 position.
QUOTING HEAD COACH SASHA SCHMID
"The team showed a lot of heart today to pull off this win on the road. Marquette played very well and we had to really battle to get this match. Cloe was down 2-5 in the third and she fought and fought for the team out there. We're really proud of Cloe and is just a huge moment for her as a freshman early in this season."
UP NEXT
The Hawkeyes return to action Friday at Northwestern. Match play is set to begin at 5 p.m. CT.
Iowa 4, Marquette 3
Feb. 17, 2019 | 10 a.m. | Milwaukee, WI | Helfaer Tennis Stadium & Recreation Center
 Doubles
1. Van Heuvelen Treadwell/ Huckleby def. Popovic/Eggink, 6-4
2. Mannix/Ruette def. Foe/ Desmarais, 6-2
3. Novakovic/Franks def. Jacobs/Bacalla
Singles
1. Eggink def. Mannix, 6-3, 6-3
2. van Heuvelen Treadwell def. Popovic, 6-4, 6-3
3. Nokakovic def. Jacobs, 6-1, 6-1
4. Bacalla def. Chinikova, 6-4, 6-4
5. Franks def. Huckleby, 7-6, 2-6, 2-6
6. Ruette def. Foe, 2-6, 6-4, 7-6
Match Notes:
Iowa: 7-0
Marquette: 5-3
Order of finish: Doubles (3, 2, 1); Singles (3, 1, 2, 4, 5, 6)
Iowa leads the all-time series, 20-2