IOWA CITY, Iowa – Graduate transfer defensive lineman Zach VanValkenburg has signed a national letter of intent to join the University of Iowa football program. VanValkenburg joins the program with two years of eligibility after previously playing at Division II Hillsdale College.
 
At Hillsdale College this past season VanValkenburg was named Defensive Lineman of the Year in the Great Midwest Athletic Conference. He recorded 70 tackles, with 14.5 tackles for loss, including 8.5 sacks, and three forced fumbles. He led the league in sacks and ranked third in tackles for loss.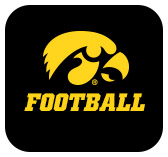 VanValkenburg (6-foot-4, 266-pounds) is a native of Hudsonville, Michigan, where he attended Zeeland West High School. He earned all-state and all-conference honors as a senior, being named Defensive Player of the Year by the Holland Sentinel and named to the Detroit Free Press Dream Team. VanValkenburg helped his prep team win three conference titles and two state championships, and earned all-state honors on the wrestling mat.
 
Season tickets for the 2019 football season are available at hawkeyesports.com, or by calling 1-800-IAHAWKS.