Hawkeye Fan Shop — A Black & Gold Store | Fight For Iowa | Photo Gallery
EVANSTON, Ill. – The University of Iowa women's tennis teams dropped its first match of the season Friday night at No. 10 Northwestern, 7-0. The Hawkeyes are now 7-1 on the season.
The Hawkeyes faced two ranked doubles opponents to start the match. The doubles team of Elise van Heuvelen Treadwell and Adorabol Huckleby picked up just their second loss against 20th-ranked Clarissa Hand and Lee Or, 6-0. Sam Mannix and Michelle Bacalla faced a similar challenge in their loss to No.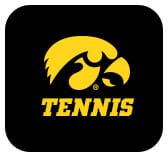 27 Julie Byrne and Hannah McColgan, 6-1.
Singles competition didn't get any easier for Iowa as they faced off against two ranked singles opponents. Junior Elise van Heuvelen Treadwell battled but was ultimately defeated by Northwestern's  No. 109 Julia Byrne, 6-3, 6-1. Samantha Mannix held her own by winning the first set against 30th-ranked Clarissa Hand. Mannix ultimately dropped the match to Hand, 4-6, 6-1, 1-0 (10-6). Sophie Clark, similar to Mannix, won her first set, 6-4, but went on to lose match against Carolina Pozo, 4-6, 6-0, 1-0 (11-9). Michelle Bacalla lost a hard-fought singles match against Rheeya Doshi of Northwestern, 7-6 (7-3), 5-7, 1-0 (10-3).
Adorabol Huckleby and Ashleigh Jacobs each dropped their singles match in straight sets.
QUOTING HEAD COACH SASHA SCHMID
"Northwestern is good and tonight we faced great competition on each court. We will grow from this match."
UP NEXT
The Hawkeyes return to action Sunday versus Penn State at the Hawkeye Tennis and Recreation Complex. Match play is set to begin at 11 a.m. CT.
Iowa 0, #10 Northwestern 7
Feb. 22, 2019 | 5 p.m. | Evanston, IL| Combe Tennis Center
 Doubles
1. #20 Hand/Or def. Van Heuvelen Treadwell/ Huckleby, 6-0
2. #27 Byrne/ McColgan def. Mannix/Ruette, 6-1
3. Clark/Jacobs UF Pozo/Doshi, Unfinished
Singles
1. #30 Clarissa Hand def. Samantha Mannix, 4-6, 6-1, 1-0 (10-6)
2. #109 Julie Byrne def. Elise van Heuvelen Treadwell, 6-3, 6-1
3. Lee Or def. Ashleigh Jacobs, 6-2, 6-3
4. Caroline Pozo def. Sophie Clark def. Chinikova, 4-6, 6-0, 1-0 (11-9)
5. Rheeya Doshi def. Michelle Bacalla, 7-6 (7-3), 5-7, 1-0 (10-3)
6. Carol Finke def. Adorabol Huckleby, 6-0, 6-0
Iowa: 7-1
#10 Northwestern: 6-4
Order of finish: Doubles (1,2,); Singles (6, 3, 2, 1, 4, 5)
Northwestern leads the all-time series, 46-2