Hawkeye Fan Shop — A Black & Gold Store | Hawk Talk Monthly — February | 24 Hawkeyes to Watch | Fight For Iowa | B1G Championships Central | Complete Notes (PDF)
By ANDREW BREITFELDER
hawkeyesports.com
IOWA CITY, Iowa — For the past seven months (and even longer), the University of Iowa men's swimming and diving team has been preparing for this week.
 
While their focus varied from meet-to-meet, the end goal was the Big Ten Championships with a goal of shaking up the league standings. The Hawkeyes not only want to prove themselves this week, but the meet paves the way to the NCAA Championships.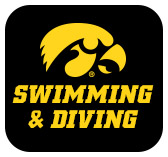 "I knew about us hosting this year before I stepped foot on campus four years ago," said senior freestyler Jack Smith. "Through my years, I always knew my last swim at the Campus Recreation and Wellness Center would be on the B1G stage."
 
Smith, fellow senior Matt Kamin, and juniors Joe Myhre and Will Scott helped propel the sprint relays to podium finishes at last year's championships.
 
"We know the pool and we know our competition," said Myhre. "These things will help us get that spot we've been chasing for so long. Our focus right now is purely on the B1G Championships."
 
The home stage could help the Hawkeyes break barriers, especially in a shaved, tapered, and suited environment.
 
"We've worked hard in practice," said Myhre. "I believe multiple guys will break out, but I have a feeling Andrew Fierke will pop this weekend."
 
The home pool advantage brings other benefits, both mentally and physically.
 
"Knowing the pool can help, but one thing people forget is we don't have to travel," said Scott. "It's a big deal to show everyone what it means to be a Hawkeye in our own pool."
 
With a big stage comes B1G challenges.
 
"Everyone on our team has the potential to score points, but our biggest challenge will be doing whatever it takes to get into scoring position," said Scott. "All of our competition is thinking the same thing, regardless if they're Olympians or at the bottom of the roster.
 
"At the end of the day we're all Big Ten swimmers, competing for the top spots in every event."
 
With experience comes expertise. Gaining this experience will be a steppingstone toward expanding the program's success.
 
"This is a great opportunity for the freshmen to break out," said Scott. "They've done well all year and will continue that streak."
 
The Big Ten Championships begin Wednesday at 6:30 p.m. (CT) with the 200-medley relay and 800-freestyle relay.  Thursday through Saturday preliminaries begin at 11 a.m. followed by 6:30 p.m. finals each day.
 
The action will be streamed live on BTN Plus.