Hawkeye Fan Shop — A Black & Gold Store | Fight For Iowa | Kansas State Notes
THIS WEEK FOR THE HAWKEYES 
The University of Iowa women's tennis team travels to face off against Kansas State on Saturday in Manhattan, Kansas. The match is set to start at 11:30 a.m. (CT).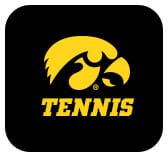 QUOTING SASHA SCHMID
"We have another great opponent on Saturday in Kansas State.  The team is looking forward to a good competitive match and tough test on the road. We are entering the heart of our season and focused on improving from match to match the rest of way."
HAWKEYES LOOK TO GRAB ROAD WIN
The Hawkeyes are off to a 3-1 start in road matches, 7-2 overall, with their lone road loss coming at No. 10 Northwestern. With a win on Saturday, it'd be the second time under head coach Sasha Schmid that the Hawkeyes opened the season winning eight of their first 10 matches (9-1 in 2016).
NON-CONFERENCE SUCCESS
A win would also improve Iowa's non-conference record to 8-0. This would be the second time under head coach Sasha Schmid (2016) where Iowa opened its season with eight straight non-conference victories.
TAKING ON THE WILDCATS
Saturday's match is the ninth meeting between the Hawkeyes and Wildcats. Iowa leads the all-time series, 6-2. The previous match between the two programs was in 2015, when the Hawkeyes defeated Kansas State, 4-1. 
STAYING HOT
Freshman Sophie Clark remains hot in singles play after picking up a win last Sunday against Penn State. The win improves her singles record to 7-1 at the No. 4 position. Elise van Heuvelen Treadwell also has with seven singles wins, at the No. 2 position.
BECOME A FAN
Fans can follow the Iowa women's tennis team at facebook.com and via twitter @Iowa_Tennis. Live results from this weekend are available on the Iowa women's tennis schedule page at hawkeyesports.com.
FOLLOW THE HAWKEYES
Links to live results will be available on the women's tennis schedule page at hawkeyesports.com