Hawkeye Fan Shop — A Black & Gold Store | Fight For Iowa | Photo Gallery
MANHATTAN, Kansas – The University of Iowa women's tennis dropped its match to No. 37 Kansas State, 4-1, on Saturday at the Body First Indoor Tennis Center.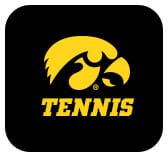 The Hawkeyes started the doubles point off strong with a 6-2 win from the team of Samantha Mannix and Elise van Heuvelen Treadwell at the No. 1 position. The Hawkeyes dropped their remaining doubles matches. Cloe Ruette and Adorabol Huckleby were defeated, 6-3, and the team of Sophie Clark and Ashleigh Jacobs dropped their doubles match, 7-5.
The Hawkeyes ran into similar problems during singles play. Samantha Mannix was defeated in straight sets, 6-4, 6-1, at the No. 1 singles position. Elise van Heuvelen Treadwell fell to Maria Linares, 6-1, 1-6, 7-5, at the No. 2 singles position. Michelle Bacalla dropped her singles match to Anna Turco, 6-2, 6-1.
Sophie Clark improved her singles record to 8-1 with a win over Karine-Marion Job, 6-4, 3-6, 6-4 at No. 3 singles. Clark now leads the Hawkeyes with most singles wins on the season.
QUOTING HEAD COACH SASHA SCHMID
"Kansas State is a good team and we didn't capitalize on some opportunities in doubles and a few spots during singles. Those missed opportunities are too big to overcome against a good and experienced team.  We have a tough road stretch ahead of us, and it's important for us keep working hard and get opportunities again."
UP NEXT
The Hawkeyes return to action next weekend in Fort Meyers, Florida, against Furman and Florida Gulf Coast. Saturday and Sunday's matches are set to start at 9 a.m. (CT).
No. 37 Kansas State 4, Iowa 1
 
Doubles
1. Samantha Mannix/Elise van Heuvelen def. Margot Decker/Anna Turco, 6-2
 2. Karine-Marion Job/Ines Mesquita (KSU) def. Sophie Clark/Ashleigh Jacobs, 7-5
3. Ioana Gheorghita/Maria Linares (KSU) def. Adorabl Huckleby/Cloe Ruette , 6-3
Singles
1. Margot Decker (KSU) def. Samantha Mannix, 6-4, 6-1
2. Maria Linares (KSU) def. Elise van Heuvelen, 6-1, 1-6, 7-5
 3. Sophie Clark def. Karine-Marion Job (KSU), 6-4, 3-6, 6-4
4. Anna Turco (KSU) def. Michelle Bacalla, 6-2, 6-1
5. Ines Mesquita (KSU) vs. Adorabol Huckleby, 2-1, unfinished
 6. Cloe Ruete  vs. Maria Ponomareva (KSU) no result
 
Match Notes:
Iowa 7-3
No. 37 Kansas State 8-3
Order of finish: Doubles (1,3,2); Singles (1,3,2,4)