Hawkeye Fan Shop — A Black & Gold Store | Hawk Talk Monthly — February | 24 Hawkeyes to Watch | Fight For Iowa | Finals Photo Gallery | Finals Photo Gallery | Complete Results (PDF) | Photo Gallery | Finals Photo Gallery | B1G Championships Central
IOWA CITY, Iowa — The University of Iowa men's swimming and diving team concluded the Big Ten Championships with a school record and NCAA "A" cut Saturday at the Campus Recreation and Wellness Center.  
 
The Hawkeyes finished eighth in the team standings — 3.5 points out of seventh and 33.5 points out of sixth place.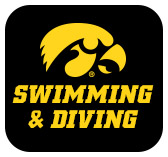 RECORD FINISH
The quartet of Aleksey Tarasenko, Jack Smith, Will Scott, and Joe Myhre earned the bronze medal in the 400-free relay, breaking the school record with a time of 2:51.06. Tarasenko's lead off split of 42.93 is a career-best and ranks second all-time in Iowa history. The relay met the NCAA 'A' qualifying standard.
 
STUNNING FINALS
Sophomore Daniel Swanepoel posted the second-fastest time in program history during the 200 breaststroke finals in 1:55.51, a career-best and finishing 12th overall. Senior Tanner Nelson set the fourth-fastest time in school history at 1:58.06 to place 19th.
 
Smith sprinted to a time of 42.96 and a seventh-place finish. Tarasenko posted a time of 43.22, and Scott followed with the fourth-fastest time in Iowa history at 43.40 seconds.
 
Junior Michael Tenney placed 10th in the 200 fly finals with a time of 1:44.72. Tenney secures second in program history with this career best.
 
Senior Kenneth Mende placed seventh in the 200 back finals with a time of 1:42.53. Mende's prelim time of 1:42.15 was .03 off his school record. Freshman Anze Fers Erzen clinched sixth in program history with a career-best time of 1:44.05.
 
Freshman Andrew Fierke finished 10th in the 1,650 Free, arriving fifth in Iowa history with a career-best. Sophomore Tom Schab earned eighth in program history with a time of 15:26.33.
 
­SPORTSMANSHIP AWARD
Senior Ben Colin earned the team's Big Ten Sportsmanship Award, given to the most spirited and dedicated individual on each team.
 
PRELIM RECORDS
Smith nearly broke his school record in the 100 free after blasting a 42.80 in prelims, .09 off the record. Myhre took fifth in school history during his swim off with a time of 43.55. Steve Fiolic placed 10th in the record books with a time of 43.85.
 
Junior John Colin swam a career best time of 1:45.63 to earn ninth in program history in the 200 back.
 
HEARING FROM HEAD COACH MARC LONG
"We're proud of how they stepped up and performed. We finished well with an 'A' cut, something very few teams in the country can achieve. Seeing the seniors finish their careers in a good way makes us feel good. The point total won't show how much growth has happened in these four years. It's bitter sweet for them. Everyday they came here to get better, and they're leaving here in a better place."
 
HEARING FROM SENIOR TANNER NELSON
"Something clicked with me during my junior year and everything after that is history. Going into this meet, I knew I had the perfect opportunity to go out the way I wanted. I'll miss coming back at 6 a.m. to become the best person I can be. It all hits you at once, but I'm so grateful for the experience here at Iowa."
 
FINAL STANDINGS
Indiana – 1705
Michigan – 1464
Ohio State – 1243.5
Purdue – 744.5
Minnesota – 726
Wisconsin – 593.5
Penn State – 563.5
Iowa – 560
Northwestern – 378
Michigan State – 209
 
UP NEXT
The Hawkeyes will participate in the NCAA Zone Diving Championships on Mar. 11-13 in Austin, Texas.