Hawkeye Fan Shop — A Black & Gold Store | Hawk Talk Monthly — February | 24 Hawkeyes to Watch
By JAMES ALLAN
hawkeyesports.com
IOWA CITY, Iowa — More than three months ago, the University of Iowa men's basketball team had Wisconsin on the ropes in Carver-Hawkeye Arena.
 
The Hawkeyes didn't seal the deal.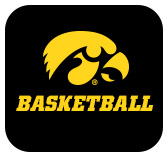 On Thursday, Iowa wants to avenge that 72-66 from Nov. 30 when it travels to the Kohl Center for a 6:01 p.m. (CT) matchup against 21st-ranked Wisconsin. The game will be televised on ESPN.
 
"I want a little payback because we had them here," said junior forward Ryan Kriener. "The last six minutes of that game were weird, we couldn't get a roll.  If the ball bounces a little different and we win that game here, that would be another quality win on our resume.
 
"That's extra motivation for me and a lot of the other guys feel the same way.  Going to Wisconsin and beating them is tough, so a road win there would mean a lot."
 
Iowa led 46-38 with 12:56 remaining before Wisconsin fought back to tie the game, 54-54, with 8:23 to play.  The Badgers outscored Iowa 12-5 over the final 95 seconds to hand Iowa its first loss of the season.
 
"We had them on the ropes, had an eight-lead in the second half, and let them off the hook toward the end of the game," said sophomore Luka Garza. "We weren't executing down the stretch like we know we're capable of.  We're excited for the rematch."
 
Iowa brings a 21-8 overall and 10-8 Big Ten record into Madison, while the Badgers are 20-9, 12-6.  Wisconsin is 1/2 game ahead of Maryland for fourth in the league standings, Iowa is sixth — two games clear of Ohio State and Minnesota.
 
The Hawkeyes have been sputtering of late, dropping three of their last four games. Iowa has averaged 70.8 points during the four-game stretch — nine points below its season scoring average of 79.7 points — while shooting 39.4 percent from the field and 29.3 percent from 3-point range.
 
"We're taking good shots and the right people are shooting them," said Iowa head coach Fran McCaffery. "You have to make sure you're shooting open shots and not contested shots, if you're shooting contested 3s, you're not going to make them."
 
Garza wants to see the Hawkeyes get out and go. Iowa has been slowed of late, being out-scored, 46-27, in fast-break points over the last four contests.
 
"We're a running team and we haven't been running like we need to," said Garza. "That's part of the reason why our offense isn't flowing and there is no movement. It's stagnant.  We have a lot of people taking tough shots and sometimes we hit those, but we can't rely on hitting tough shots.
 
"We have to get open shots for our shooters, especially when teams are scouting us and know how to get us out of our flow. We need to go back to running and executing."
 
The Hawkeyes will have to do it in an energized Senior Day environment at the Kohl Center, where the Badgers will recognize forward Ethan Happ in his final home game.  The All-America forward is the fifth player in NCAA history to record at least 2,000 points, 1,000 rebounds, and 400 assists, joining Oscar Robertson, Larry Bird, Danny Ferry, and Stacey Augmon.
 
This season, Happ is averaging 17.8 points, 10.1 rebounds, and 4.7 assists, while shooting 53.8 percent from the field.
 
"He's the toughest guy for big guys to guard in the Big Ten," said Kriener. "He has an unorthodox game as he's constantly spinning and dribbling; he's a gifted passer, and a crafty finisher."
 
"You can't stop moving on him because he's going to keep pivoting, shot-faking, and everything like that to get his open shots," said Garza. "He's not really a shooter, but he's able to create for himself and his teammates."
 
Iowa limited Happ to 13 points and seven rebounds in the first meeting Nov. 30, but guard D'Mitrik Trice was the difference, scoring 20 points on 6-of-14 shooting with four 3-pointers in 36 minutes.