Hawkeye Fan Shop — A Black & Gold Store | Hawk Talk Monthly — February | 24 Hawkeyes to Watch | Iowa Looks to Avenge November Loss
By DARREN MILLER
hawkeyesports.com
IOWA CITY, Iowa — University of Iowa junior Jordan Bohannon leads the nation this season with 75 points scored over the final two minutes of regulation and the final two minutes of overtime.
 
Fans should have seen that sort of production coming two years ago in the Kohl Center, when the legend of "Big Shot J-Bo" originated. On March 2, 2017, Bohannon sank a 3-point field goal with :09 remaining to lead the Hawkeyes past Wisconsin, 59-57. It was his only made 3-pointer of that second half.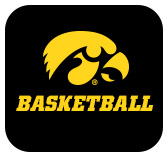 "It's a memory I will have for the rest of my life," Bohannon said. "You couldn't write a better story for how it ended."
 
There are other reasons it was significant: 1) Two of Jordan's brothers, Jason and Zach, played for the Badgers. 2) To this day, Jordan feels slighted by a lack of recruitment from Wisconsin.
 
"I have more fire (competing against Wisconsin)," Bohannon said. "(Playing) the school that doubted me and what I could do at this level and didn't think I could get to this point in my life has added fuel to my fire ever since I stepped foot on the floor at Iowa."
 
Bohannon has more than a memory of that first game-winner. He receives a daily reminder when he glances at a mural depicting the moment.
 
"It's kind of special. I have it up on my wall, right over my bed," Bohannon said. "Every time I go in my room, I see that shot. It is a memory I will have for the rest of my life. That picture definitely has sentimental meaning to it."
 
There have been other game-winners and clutch performances by Bohannon since that magic moment in the Kohl Center. Just look at his resume from this season alone: a big-time 3-point field goal with 36 seconds left at Penn State, a game-winning 3-point field goal against Northwestern, a 3-point field goal to tie Indiana at the end of regulation and then adding nine points in overtime.
 
But the one that got it started was at Wisconsin, 30 games into his college career. Fans in Wisconsin haven't forgotten and Bohannon hopes to hear from them often March 7 when the Hawkeyes return to the Kohl Center for a 6:01 p.m. (CT) tip against the No. 21 Badgers.
 
Bohannon says he loves hecklers and he feeds off their energy.
 
"That's why college basketball is so great," Bohannon said. "You have all these young kids around the country living up to their dreams of trying to get to the next level. You're not doing anything right if you don't have haters."
 
Bohannon said his Wisconsin alumni brothers weren't immune to receiving flak two years ago when his game-winner swished through the net.
 
"There were so many Wisconsin fans giving them (a hard time), (but) you guys have to be serious, it's family," Bohannon said. "Family rules over anything."   
 
Over the past five games, Bohannon has been among the hottest Hawkeyes, averaging a team-best 14.4 points with 16 assists and 13 3-point field goals. He is 16 points away from 1,171 career points, which would surpass his brother Jason for family all-time scoring honors.
 
Accomplishing that in the Kohl Center would be fitting. Doing it at the end of regulation would be expected.