Hawkeye Fan Shop — A Black & Gold Store | 24 Hawkeyes to Watch | Hawk Talk Monthly | Fight For Iowa
IOWA CITY, Iowa — The University of Iowa diving team travels to Austin, Texas, to compete in the 2019 NCAA Zone D Diving Championships from March 11-13 at the Lee and Joe Jamail Swimming Center.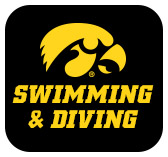 The Hawkeye men open competition Monday on the 1-meter springboard, while the women will dive off the 3-meter springboard. The following day, the women will compete off the 1-meter and the men off the 3-meter before the action concludes with the platform competition Wednesday.
 
Every member of the Iowa diving team has qualified for the NCAA Zone D Diving Championships, including Anton Hoherz, Will Brenner, Jonatan Posligua from the men's team and Jayah Mathews, Thelma Strandberg, Sam Tamborski, Jacintha Thomas, Jolynn Harris, and Claire Park on the women's team.
 
Mathews, a 2018 NCAA qualifier, currently sits at No.2 in school history off the 1-meter (330.05) and No. 3 off the 3-meter (380.20). She placed fourth off the 3-meter at the Big Ten Championships.
 
Brenner also holds high prestige in program history, currently holding the school record off the 1-meter springboard (368.00) and sitting at No. 2 off the 3-meter (394.30).
 
Hoherz is the school record holder off the platform after achieving a score of 415.65 at the 2018 Big Ten Championships.
 
Fans can follow the action on divemeets.com.