Hawkeye Fan Shop — A Black & Gold Store | Photo Gallery | Fight For Iowa
FORT MYERS, Florida— The University of Iowa women's tennis team picked up its eighth victory of the season, defeating Florida Gulf Coast University, 5-2, on Sunday at the FGCU Tennis Complex.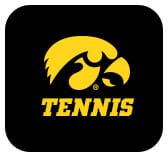 Sophie Clark and Ashleigh Jacobs got the ball rolling for the Hawkeyes in their 6-3 doubles victory over Madison Gallegos and Sofia Perez at the No. 2 position.
The No.1 doubles team of Samantha Mannix and Elise van Heuvelen Treadwell clinched the doubles point for the Hawkeyes. The duo picked up a win over Maja Ornberg and Julia Ascúa, 6-4. Adorabol Huckleby and Danielle Bauers doubles match went unfinished.
The Hawkeyes stayed hot during singles play, winning four of their six matches. 
Sophie Clark picked up her ninth win of the season,beating Julia Ascûa, 6-4, 6-3, at the No. 3 position. Samantha Mannix matched Clark with a win of her own over Sara Kelly , 6-4, 6-3, at No. 2.
Adorabol Hukcleby claimed the victory for the Hawkeyes with a win over Madison Gallegos, 6-3, 6-3, at No. 5. Ashleigh Jacobs went the distance in her win over Sofia Perez, 6-7 (3), 6-0, 11-9, at the No. 4 position.
QUOTING SASHA SCHMID
"I'm proud of the hard fought effort today from the team to get this win. We needed this victory, and the team dug in deep today. We have another great opponent in Notre Dane on Tuesday. We are looking forward to a solid day of practice and competing again on Tuesday in Orlando."
UP NEXT
The Hawkeyes return to action Tuesday, March 12, in Lake Nona, Florida, to compete against Notre Dame in a USTA National Campus Collegiate Series match. Start time is 10 a.m. (CT) at the USTA National Campus.
Iowa 5, FGCU 2
 
Doubles
1. Samantha Mannix/ Elise van Heuvelen (Iowa) def. Maja Ornberg/ Julia Ascúa (FGCU), 6-4 
2. Sophie Clark/ Ashleigh Jacobs (Iowa) def. Madison Gallegos/Sofia Perez (FGCU), 6-3
3. Adorabol Huckleby/Danielle Bauers (Iowa) vs. Sara Kelly/Patricia Villar (FGCU), DNF 
Singles
1. Maja Ornberg (FGCU) def. Elise van Heuvelen Treadwell (Iowa), 1-6, 6-2, 6-4
2. Samantha Mannix (Iowa) def. Sara Kelly (FGCU), 6-4, 6-3
3. Sophie Clark (Iowa) def. Julia Ascúa (FGCU), 6-4, 6-3
4. Ashleigh Jacobs (Iowa) def. Sofia Perez (FGCU), 6-7 (3), 6-0, 1-0 (11)
5. Patricia Villar (FGCU) def. Michelle Bacalla (Iowa), 6-3, 7-5
6. Adorabol Huckleby def. Madison Gallegos (FGCU), 6-3, 6-3
Match Notes:
Iowa: 8-4
FGCU: 4-6
Order of finish: Doubles (2,1,3); Singles (3,2,6,5,1,4)