Hawkeye Fan Shop — A Black & Gold Store | Fight For Iowa | Photo Gallery
Lake Nona, FLORIDA — The University of Iowa women's team fell to Notre Dame on Tuesday, 7-0, at the USTA National Campus in Lake Nona, Florida.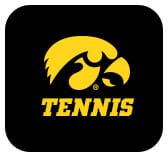 ​The Fighting Irish swept the Hawkeyes in singles and doubles.
Ashleigh Jacobs fell in her No.4 singles match to Bess Waldram, 6-3, 7-5. Sophie Clark faced a similar challenge in her loss to Cameron Corse, 6-1, 6-3 at No. 3. Adorabol Huckleby dropped her No. 6 singles match to Zoe Taylor, 6-2, 6-4.
After dropping the first set, 6-0, Samantha Mannix battled back and fell just short of forcing a third set in her No. 2 singles match. Mannix was defeated by Notre Dame's Ally Bojczuk, 6-0, 7-6 (3).
Michelle Bacalla and Elise van Heuvelen Treadwell fell just short in their three-set matches. Bacalla dropped her No. 5 singles match to Brooke Broda, 6-4, 4-6, 1-0 (8). Van Heuvelen Treadwell fell to No. 58 Zoe Spence, 2-6, 6-2, 6-4.
QUOTING SASHA SCHMID
"Disappointing loss for us today. We weren't able to step up to the challenge in our matches and couldn't close out opportunities."
 
UP NEXT
The Hawkeyes return to action Saturday, March 16th, in East Lansing, Michigan, to play in their Big Ten road opener against Michigan State. Start time is 11 a.m. (CT) at the MSU Indoor Tennis Facility.
Notre Dame 7, Iowa 0
 
Doubles
1. Samantha Mannix/ Elise van Heuvelen vs. Cameron Corse/ Zoe Spence, DNF
2. Bess Waldram/Brooke Broda (ND) def. Sophie Clark/ Ashleigh Jacobs (Iowa), 7-5
3. Ally Bojczuk/ Zoe Taylor (ND) def. Adorabol Huckleby/ Danielle Bauers (Iowa), 6-2
Singles
1. #58 Zoe Spence (ND) def. Elise van Heuvelen Treadwell (Iowa), 2-6, 6-2, 6-4
2. Ally Bojczuk (ND) def. Samantha Mannix (Iowa), 6-0, 7-6 (3)
3. Cameron Corse (ND) def. Sophie Clark (Iowa), 6-1, 6-3
4. Bess Waldram (ND) def. Ashleigh Jacobs (Iowa), 6-3, 7-5
5. Brooke Broda (ND) def. Michelle Bacalla (Iowa), 6-4, 4-6, 1-0 (8)
6. Zoe Taylor (ND) def. Adorabol Huckleby (Iowa), 6-2, 6-4
Match Notes:
Iowa: 8-5
Notre Dame: 10-5
Order of finish: Doubles (2,3); Singles (4,3,6,2,5,1)