Hawkeye Fan Shop — A Black & Gold Store | Hawk Talk Monthly — March | 24 Hawkeyes to Watch | B1G Tournament Bracket (PDF) | McCaffery News Conference Transcript (PDF)
 By JAMES ALLAN
hawkeyesports.com
 
IOWA CITY, Iowa — If the holiday season is the most wonderful time of the year, postseason basketball in March is a close second.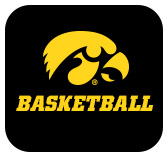 "We're all excited," said junior Tyler Cook. "This is the most fun part of the year for everybody across the country.  We're excited to get to Chicago and start playing.  That kind of energy will serve us well the next couple of days in practice."
 
After closing the season with four straight losses, the University of Iowa men's basketball team is looking for a fresh start this week at the Big Ten Tournament in Chicago. The sixth-seeded Hawkeyes will face either No. 11 seed Illinois or 14th-seeded Northwestern on Thursday at the United Center beginning at approximately 8:30 p.m. (CT).
 Sophomore Luka Garza believes Iowa's late-season struggles will give the Hawkeyes motivation heading to the Windy City.
 
"We played better at Nebraska — we should have won that game — but it was progress compared to other games," said Garza, who scored 25 points in Lincoln, his highest scoring output since Jan. 27. 
 
"Losing those last four games gives us an even bigger chip on our shoulder to make sure we make a run and leave Chicago knowing we gave it our all.  We don't want to leave knowing we left something on the table."
 
One way to make a run is to get Cook back on track.  Iowa's All-Big Ten performer finished the regular season being held scoreless for the first time in his career at Wisconsin before finishing with nine points and nine rebounds at Nebraska.
 
"(Teams) are always throwing different things at me," said Cook. "It's my job to try to figure out how to combat that. My numbers haven't been great the last few games and it's probably a byproduct of our team not playing well.  The fun part is figuring out a way to get better and get through it."
 
Cook doesn't think the Hawkeyes need to change their mentality in the postseason. 
 
"We need to keep being ourselves," he said. "We were one of the hottest teams in the country earlier for a reason. We want to get back to being ourselves and playing the way we know how to play."
 
The Hawkeyes finished the regular season with a 21-10 record and an upper-level Big Ten Conference finish for the sixth time in seven seasons.
 
"With this being the postseason, that will get our mojo back a little bit," said Cook. "This time of year is exciting. That will help us get our energy-wise and get our enthusiasm back like we were playing in New York (in November)."
 
"We're all focused on making a run and playing the way we're capable of," said Garza. "When we do, there are not many teams that can beat us."
 
Iowa is 5-2 all-time as the No. 6 seed in the Big Ten Tournament.  The Hawkeyes have won the tournament twice in their history with the first coming as a six seed in 2001.