Hawkeye Fan Shop — A Black & Gold Store | Fight For Iowa | Photo Gallery
EAST LANSING, Mich. — The University of Iowa women's team fell to Michigan State, 4-3, on Saturday at the MSU Indoor Tennis Facility.
After three highly competitive matches, Iowa dropped the doubles point to Michigan State.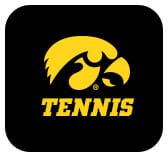 The Hawkeyes bounced back to take the lead, 2-1, with two early singles victories.
Samantha Mannix handled Lauren Lemonds in straight sets, 6-4, 6-1 at No. 2. Elise van Heuvelen followed with a win over Samantha Memijie, 6-4, 6-3 at the No. 1 position.
Ashleigh Jacobs fell in her No. 4 singles match, 7-6, 6-3. Adorabol Huckleby dropped a competitive three set match, 6-0, 4-6, 6-3.
Sophie Clark was defeated in a back and forth match by Davina Nguyen, 1-6, 7-5, 7-5 at the No. 3 position. Michelle Bacalla picked up a win over Nicole Stephens, 7-5, 1-6, 6-2 at No. 5
QUOTING SASHA SCHMID
"The doubles point came down to a tie breaker and the match itself came down to a tiebreaker in the third set with the match tied 3-3. It's very hard to lose a heartbreaker like this, but we have to pull ourselves up and be resilient. There is a lot of tennis left to play and lots of great opportunities ahead."
UP NEXT
The Hawkeyes return to action Sunday, March 17th, in a Big Ten road match at No. 14 Michigan. Start time is 11 a.m. (CT) at the Varsity Tennis Center.
Michigan State 4, Iowa 3
 
Doubles
1. Maja Pietrowicz/Emily Metcalf (MSU) def. Elise van Heuvelen Treadwell/ Samantha Mannix (Iowa), 7-6 (4)
 2. Sophie Clark/Ashleigh Jacobs (Iowa) vs. Samantha Memije/Nicole Stephens (MSU), 6-6 DNF
3. Lauren Lemonds/Davina Nguyen (MSU) def. Michelle Bacalla/Danielle Bauers (Iowa)
Singles
1. Elise van Heuvelen Treadwell (Iowa) def. Samantha Memije (MSU), 6-4, 6-3
2. Samantha Mannix (Iowa) def. Lauren Lemonds (MSU), 6-4, 6-1
3. Davina Nguyen (MSU) def. Sophie Clark (Iowa), 1-6, 7-5, 7-5
4. Maja Pietrowicz (MSU) def. Ashleigh Jacobs (Iowa), 7-6, 6-3
5. Michelle Bacalla (Iowa) def. Emily Metcalf (MSU), 7-5, 1-6, 6-2
6. Nicole Stephens (MSU) def. Adorabol Huckleby(Iowa), 6-0, 4-6, 6-3
Match Notes:
Iowa: 8-6
Michigan State: 10-6
Order of finish: Doubles (3,1); Singles (2,1,4,6,3,5)
 
 
 
​