Hawkeye Fan Shop — A Black & Gold Store | 24 Hawkeyes to Watch 2018-19 | Hawk Talk Monthly — March | Photo Gallery
By RICK BROWN
hawkeyesports.com
 
IOWA CITY, Iowa — Senior Day for the University of Iowa women's basketball team makes an encore Sunday at Carver-Hawkeye Arena. Starters Megan Gustafson, Tania Davis, and Hannah Stewart will be playing their final home game, with a trip to the Sweet 16 of the NCAA Tournament on the line.
 
The second-seeded Hawkeyes (27-6) play No. 7 Missouri (24-10) in a second-round game at 1 p.m. (CT).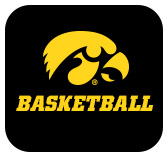 Gustafson, Davis, and Stewart were honored at Senior Day before the final regular-season home game against Northwestern on March 3.
A victory in the Big Ten Tournament secured the program's first No. 2 seed since 1996, and the opportunity to host first- and second-round games.
 
A 66-61 first-round victory against Mercer on Friday meant the senior trio will say goodbye in a game with Sweet 16 implications.
 
"I've thought about that a little," said Gustafson, Iowa's All-America center and the program's all-time leading scorer and rebounder. "I'm going to play my heart out, and my teammates are. It will be a lot sweeter when we get the win. Then it won't be as bad, not getting to play at Carver anymore."
 
Iowa head coach Lisa Bluder admires Davis for her resilient career, one that has seen her bounce back from two season-ending ACL surgeries to start all 33 games this season.
 
She admires Stewart for keeping a positive attitude when the minutes weren't there earlier in her career, and then getting rewarded for the energy she brings to the team.
 
Gustafson, a two-time Big Ten Player of the Year, almost leaves her
coach speechless.
 
"Megan, I've run out of ways to describe that kid," Bluder said. "But I know she has been one of the easiest stars I've ever coached. She has been one of the most-least drama kids that I've ever coached.
 
"She has given me no issues whatsoever. She's an absolute joy. She deserves to go out of here with a win. That's what we hope to give her tomorrow, although we know it's going to be very difficult."
 
Sunday's game will also be a reunion of sorts. Missouri head coach Robin Pingeton is a native Iowan who played for Bluder at St. Ambrose. Bluder's final season at the school was Pingeton's senior season (1989-90), when the team was ranked No. 1 in the nation, made the NAIA Final Four, and finished 34-1.
 
"She coaches the same way she played," Bluder said. "She's tenacious."
 
Missouri, a 77-76 overtime winner against Drake on Friday, has a star of its own in senior guard Sophie Cunningham. A three-time All-SEC selection, Cunningham is the Tigers' career scoring leader with 2,179 points. She's the only player in the country to average at least 18 points, make 80 three-pointers, make 140 free throws, and have 200 rebounds this season.
 
"She can score in so many different ways," Bluder said. "She's shooting 50 percent from 3-point range. She can beat you off the drive. They do a great job of setting screens for her and getting her open for the drive. Then she can post up, and she does a great job of drawing fouls. She's a very tough assignment."
 
Cunningham is one of three senior starters trying to get Missouri to the Sweet 16 for the first time ever.
 
The tenacity Bluder speaks of when describing Pingeton could also describe the Tigers' half-court defense. Missouri has held opponents to 65 points or less in 26 of 33 games. Teams are averaging 58.5 points a game.
 
Iowa has been held to 65 points or less just once, in a 62-57 loss at Purdue on Jan. 10. The Hawkeyes are averaging 79.4 points a game.
 
Missouri had also held foes to 29.3 shooting from 3-point range. Iowa is shooting 34.8 percent from 3.
 
Limiting Gustafson's touches is high on Missouri's to-do list defensively.
 
"She's as good as advertised," Pingeton said. "She has great touch and great feel. Her teammates do a great job of getting the ball to her in great positions. We have a plan going into this. You have to be a little creative because she's hard to guard."
 
Iowa is trying to reach the Sweet 16 for the first time since 2015, and the seventh time overall. A home-court advantage awaits Sunday. A crowd of 10,720 was on hand Friday.
 
"They were wonderful, and I know they're going to come out again tomorrow," Bluder said. "They're coming out because they love this team. They're coming out because they're great Hawkeye supporters. They're coming out because of these three seniors."
NCAA Ticket Prices: 
Single-Session Ticket Prices:
Adult: $16
Senior: $10 (50 & above)
Youth: $10 (18 & under)